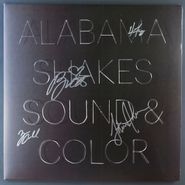 $32.99
Currently Unavailable
Artist:
Alabama Shakes
Genre:
Rock
Release Date:
04/21/2015
Label:
ATO Records
Catalog Number:
2229818
Recording:
Studio
Length:
Format:
Vinyl LP
Note:
Deluxe Edition
180 Gram Vinyl
Side D is blank
2LP
Autographed by Alabama Shakes. This is a new item (shrink wrap removed).
Sound & Color [Deluxe 180 Gram Black Vinyl] [Signed] (LP)
Alabama Shakes

Currently Unavailable
$32.99
SHIPS FREE
in U.S.
Amoeba Review
Alabama Shakes' meteoric rise thankfully hasn't tarnished what made them special to begin with. Sound & Color is an assured follow-up to Boys & Girls, further defining the band's garage-blues sound without just relying on singer/guitarist Brittany Howard's explosive voice to carry the show.
Overall Rating
0 Submissions