Our Stores: Buy, Sell, Trade
Due to COVID-19, we are not acquiring collections at the moment. We look forward to buying collections when our stores reopen.
Bring us your CDs, LPs, DVDs, 45s, books, 78s, 12"s or video games! At Amoeba Music, you can trade in your old stuff and get cash or 30% more in a credit slip that you can use to shop with whenever you want. Our expert buyers can appraise all categories of music. Bring in any amount or combination of genres or formats and we'll explain how much everything is worth, and pay you the right price.
We Buy More - Get Cash for LPs and CDs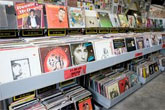 We Need Your Used Records and LPs
Stacks of vinyl taking up too much room? Sell us your used Records and LPs! Amoeba has the largest selection of Vinyl LPs in the world! Selling your LP collection is a breeze when you come to the largest purchaser of LP collections. Simply put, we buy your records! Looking to sell a large LP collection? Fill out our Collection Form!
Sell Used CDs
Got too many CDs? Need to recycle some old sounds with new ones? Amoeba carries the largest inventory of used CDs in the country. All kinds of hybrids are stocked as well, like SACD and DualDisc. Bring your used CDs to Amoeba and get the most for your collection! See how we price these items.
Sell Used 45s and 78s
In addition to the 12" LP format, Amoeba also buys and sells 45s and 78s. No collection too large! Have some old dusty acetates? No problem! We are the largest buyer of music collections, period. See how we price these items.
We Buy Movies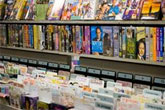 Sell Used DVDs, VHS, Laserdiscs & More
Want to unload your video collection? Amoeba carries the largest inventory of used videos in the country. Formats we stock include DVD, VHS, and Laserdisc. In addition, we currently carry a huge amount of titles on new formats like PSP, Blu-Ray and HD DVD. See how we price these items.
Looking to sell a large DVD collection? Fill out our Collection Form!
We Buy Large Music Collections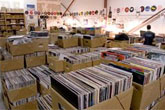 You can bring your record collection into any of our three locations, check our hours. No appointment necessary! Please call the store to find out when the best time to bring them in might be.
We Make House Calls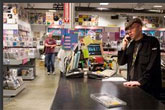 Do you have a large collection of LPs that you would like to sell? Too large to haul to our store? No worries, we make house calls!!
If you are interested in having us come out to your house to buy your collection, please visit and fill out our Collection Form.
For very large collections with good titles we're often able to come to you. Please call a buyer at our store to discuss your collection. For our Hollywood store, please call (323) 245-6400, San Francisco (415) 831-1200 and Berkeley (510) 549-1125. Ask for more information on how to sell your record collection. We will even consider trips out of state for the truly special larger collections.
Remember, not only can you get cash for your used record collection, we offer 30% more in trade credit which you can use whenever you want. See our Buying & Selling Policies page for full details.
We Buy Books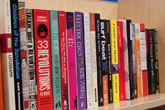 Sell us your used books! We are growing our book sections and want to reward you with highest prices paid in cash for your unwanted music and film books, art books, fiction and non-fiction, classics, poetry, comics, and graphic novels. We will also buy select vintage magazines. Bring them by any of our store locations and we'll make it easy and worth your while!
Amoeba Berkeley
2455 Telegraph Ave. Berkeley, CA 94704
510.549.1125 - Google Maps
Store Hours:
Temporarily Closed
Amoeba San Francisco
1855 Haight St. San Francisco, CA 94117
415.831.1200 - Google Maps
Store Hours:
Open Thursday - Sunday 11am-7pm [Closed Mon/Tues/Wed]
Amoeba Hollywood
6200 Hollywood Blvd. Los Angeles, CA 90028
(323) 245-6400 - Google Maps
Store Hours:
Temporarily Closed