Store Happenings
Our stores are the heart and soul of our business. With locations in Berkeley, San Francisco and Hollywood, we strive to provide the ultimate selection of music and movies (and more)! Take a walk though any of our locations and discover sights and sounds you never dreamed of. Explore our new and used selection of LPs, CDs, DVDs, Blu-rays, posters, books, tees and more! Come on down and get lost with us!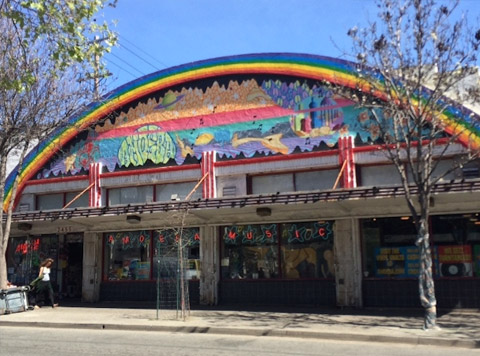 Berkeley
2455 Telegraph Ave. Berkeley, CA 94704
Open Wednesday - Sunday 11am-7pm [Closed Mon/Tues]
(510) 549-1125
Video Tour
In 1990 Amoeba Music was born on Telegraph Avenue in one of California's most exciting and revolutionary cities -- Berkeley.
The passion we shared with our customers for a truly broad, expertly stocked music selection at an irresistible price quickly kindled into a strong community and widespread attention. Since then we've expanded many times, and opened stores in two major California cities, San Francisco and Los Angeles. Today, music lovers come from far and near to visit the original Amoeba Music, shop our hundreds of thousands of new and used CDs and LPs, and enjoy the unique Berkeley vibe. We've earned years of acclaim and built a reputation as one of California's best music stores. Come visit and you'll see why! We feature countless titles from every style and era, from the well-known to the obscure, and give equal place to rock, jazz, soul, hip-hop, world music, electronica, experimental, reggae, roots music and more. You'll find the latest hits and underground buzz bands, as well as original Oakland soul & jazz classics on vinyl, Gilman Street punk, cutting-edge noise and improv, and the Berkeley sounds of world fusion, reggae and indie rock. Everything is priced to sell and our stock turns over daily. In recent years our DVD and video section has expanded to similar prominence, and you can almost always find anything you're looking for as well as plenty of unknown cinematic treasures.
The Amoeba building at Telegraph and Haste, ground zero for the Free Speech and Anti-war movements, housed the famous Forum Coffee House in the 1960's, one of the original Cafes in Berkeley where poetry and politics became associated with coffee house culture, and the One World Family Cookery in the 1970's, an early "health food" restaurant and venue where Sun Ra once did a week-long residency. The side of our building is the site of the famous "Peoples Park" mural, illustrating the history of the struggle between the "state" and the "people" for control of a 3 1/2 acre park just a half block away in which, among other incidents, a protester was shot and killed. These iconoclastic spirits live on at Amoeba, and continue to inspire the multifarious musical experimentation that the East Bay is known for. Our staff and shoppers are constantly striking out in as many different directions as possible, creating new sounds and new styles and rediscovering old ones. We're proud to be part of this unique and endlessly inventive family tree. Whether you're a collector, a DJ, a friend or a fan, a musician, an old soul or a free spirit, your doorway to this musical world is the original Amoeba Music of Berkeley!
Read More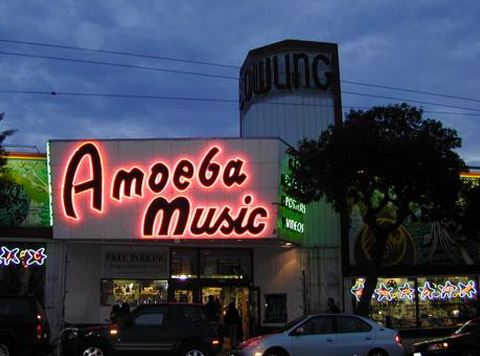 San Francisco
1855 Haight St. San Francisco, CA 94117
Open 11am-7pm every day
(415) 831-1200
Video Tour
In 1997 Amoeba Music crossed the Bay to open its San Francisco location, in a converted bowling alley at the eastern edge of Golden Gate Park.
Here we stock hundreds of thousands of music and movie titles from every genre imaginable, and we're constantly buying great collections and bringing in new product. The beautiful, dynamic Haight-Ashbury neighborhood, with its history of music and free expression, is the perfect place for an offshoot from the original location in like-minded Berkeley. With our huge selection, kool staff, and amazing live shows, we're a must-see part of San Francisco! We pay particular attention to the experimental frontiers of rock, hip-hop, electronica and jazz. You'll find amazing catalogues of artists like Sun Ra, Zappa and Stockhausen, tons of up-to-the-minute underground indie, garage, emo and art-punk bands, cutting-edge hip-hop and turntablism from the likes of the Anticon collective and the Invisibl Skratch Piklz. You'll also find a world-class selection of Japanese rock & pop, the best roots reggae selection on the West coast, and deep experimental libraries from Derek Bailey, John Zorn, Merzbow and countless others. We're THE store for the dedicated music fan!
We're also one of the city's best places to see live music - our legendary free in-stores have included Spiritualized, M.I.A., Van Hunt, Ladytron, the Gossip, Will Oldham, Sonic Youth, Kid Koala, Sharon Jones, the Polyphonic Spree, the Preservation Hall Jazz Band and a well-remembered show by the late Elliott Smith. We're constantly presenting nationally known touring artists as well as independent bands and DJs on our stage, eye-catchingly decorated like a psychedelic Victorian living room. Music can also be enjoyed privately, at numerous CD listening stations throughout the store.
In Spring 2004, Amoeba SF launched a major expansion that has created the biggest DVD outlet in the Bay Area. A store-within-a-store, the DVD room at Amoeba offers more than 30,000 titles, new and used. We carry everything from new hit films, rock films and concerts, Asian cinema and cult films, to hard-to-find imports and rare independent releases. Nor do we neglect VHS or laserdisc; our video and laser sections are equally stellar. We've become the DVD store for people who love film, as much as we've always been the music lover's music store.
Amoeba SF is a meeting place where musicians, DJs, collectors and artists of all kinds can get together and stay up on the scene. Our store reflects the progressive spirit of the city -- we support rainforest conservation, recycling, and a whole host of good causes including raising money to help rebuild New Orleans. Together, our staff and shoppers are actively devoted to bettering our community through collective action and of course, musical and artistic experimentation of every kind. Through spreading good music and great energy, we want to change the world!
Read More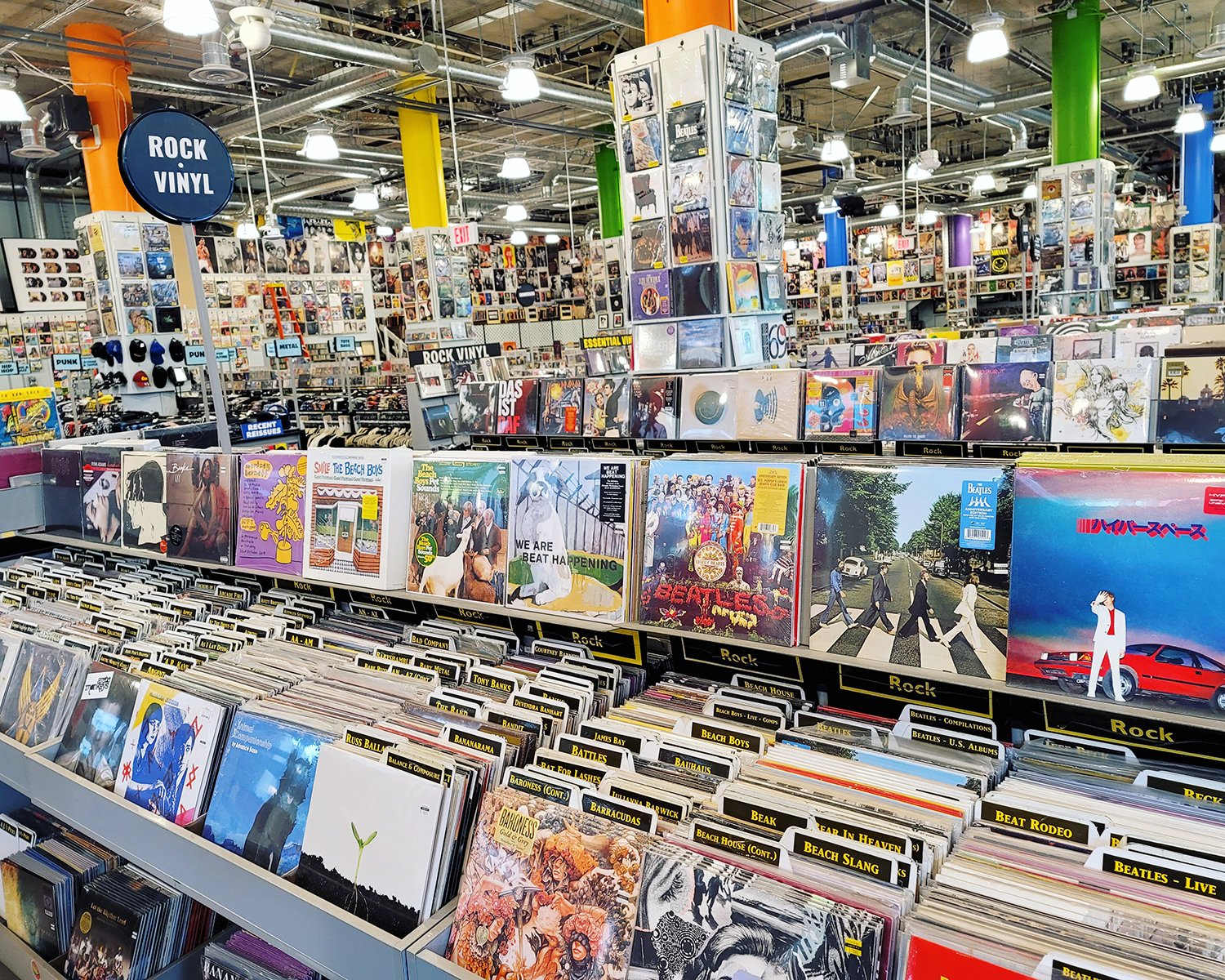 Hollywood
6200 Hollywood Blvd. Los Angeles, CA 90028
Monday - Thursday open 11am - 8pm | Friday - Sunday open 11am - 9pm (Trade counter closes at 7pm every day)
(323) 245-6400
Video Tour
In November 2001 Amoeba Music opened its biggest store yet, on Sunset Boulevard in downtown Hollywood. Occupying an entire city block, this store houses the biggest, broadest, most diverse collection of music and movies ever seen on under one roof.
Altogether, our 2 shopping floors and our Jazz room boast millions of titles on CD, DVD and vinyl, new and used, and our stock changes as fast as our customers bring in their old collections. We've been warmly welcomed by L.A.'s musical community, and the affection is mutual! Thousands of music lovers from all walks of life pass through our doors every day, and the main sales floor is a raucous, colorful non-stop party. It's the world's largest independent music store, and we think, one of the best. You've got to experience it firsthand!
Our fun and experienced staff is an all-star team of musical veterans from music and movie stores all over the country. We have experts in every field and collectively, the musical knowledge we represent is encyclopedic and unparalleled. Our mission is to help you find what you need and to make you feel at home. For our local regular shoppers, we are a vital resource that's an important part of their lives. For music lovers visiting from far and near, it's like a holiday spree in a musical candy store. We are musicians, artists, DJs and writers, and we love to have a good time, which is what we want your shopping experience to be!
We're also a critically acclaimed music venue, featuring tons of live bands, DJs, parades, charity events, record and DVD release parties. We've had free live performances from the Flaming Lips, Elvis Costello, Black Flag, Los Lobos, Blackalicious, Jurassic 5, The Roots, Terence Blanchard, John Cale, P.J. Harvey, Nancy Sinatra, The Melvins, Blind Boys of Alabama, Paul Westerberg, Lucinda Williams, Pat Benatar, Poncho Sanchez, Ben Harper, Belle & Sebastian, The Rapture, Queens of the Stone Age, Supergrass, The Raconteurs, DJ Dangermouse and soul legend Solomon Burke.
Together, the staff and shoppers and performing artists who come together here every day comprise a unique musical community and an incubator for positive energy. You'll feel it when you walk through the front door. It's an amazing energy that comes as much from our customers as from us. Like the tiny amoeba, the single-celled source of life, we are independent, but we absorb all influences and grow and change. Come be a part of our SoCal community!
Explore Hollywood
NavigateHollywood.com is an interactive, way-finding website designed to help all navigate their way to, through and out of the core of Hollywood. It's the one-stop source of information related to parking access, street closures, public transportation, construction traffic impacts and traffic conditions in Hollywood.
Read More
Dec 7, 2021
The Freak Brothers + Amoeba Collab!
Dec 6, 2021
Holiday Shipping Deadlines
Dec 2, 2021
Woosung Signing at Amoeba LA 12/14
Dec 14, 2021 4:00pm
Hollywood