The Best "What's In My Bag?" Episodes of 2020
The Best WIMBs of 2020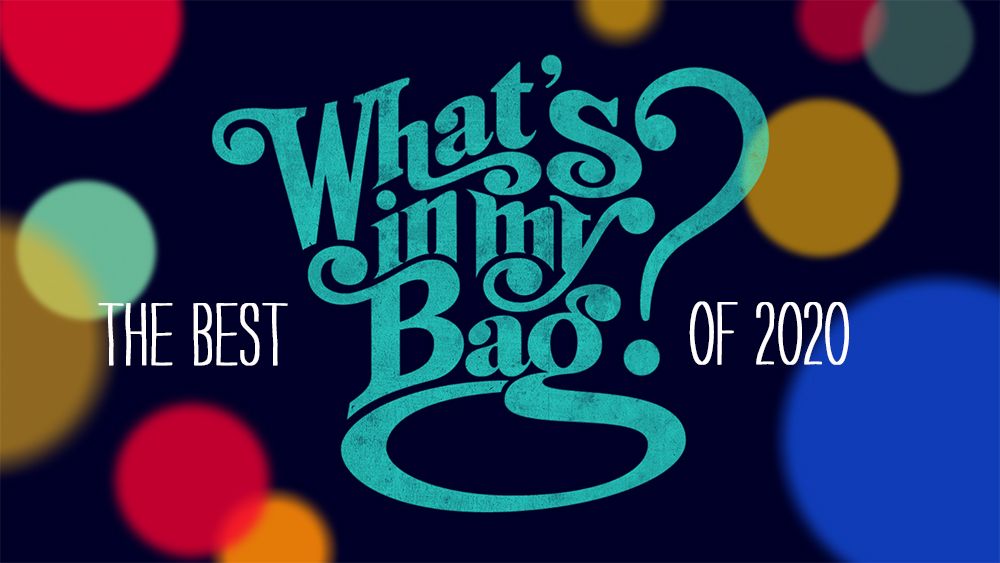 2020 required a lot of adaptation from all of us, including our What's In My Bag? series. When our stores closed in mid-March, we had to reimagine what we could do with the series. Instead of artists coming in to shop at Amoeba, we asked them to share records from their personal collections at home. Instead of our own film crew, it would be up to each artist to film the episodes on their cell phones and to figure out details like lightning and background. It has been an incredibly personal glimpse into each artist's collection and has also led to some interesting videos. We would never have gotten to see Stephin Merritt on a mini golf course if it weren't for the pandemic! We are forever grateful to all the artists who welcomed us virtually into their homes, tackled technology to film their episodes, and were willing to talk about records for a record store they couldn't actually visit.
Here, in no particular order, are some of our favorite episodes from the year that was 2020.
---
The legendary musician, visual artist, and Sonic Youth co-founder went shopping at Amoeba Hollywood before an album signing for her debut solo album No Home Record. Her eclectic taste was very apparent as she picked up '90s hip hop, avant-garde jazz, and post-punk.
Singer/songwriter Phoebe Bridgers shared some of her favorite records from her home collection, including Elliott Smith, Lala Lala, Joanna Sternberg, and the album that won Bright Eyes a GRAMMY award for Best Recording Packaging.
It's not often that Amoeba employees get starstruck, but there is no question that when Huey Lewis came to shop we were a little giddy. For employees of a certain age, Huey Lewis & The News were omnipresent in our childhoods. The band was releasing their first new album in 20 years, Weather, and it was also their first since Lewis' diagnosis of Meniere's disease. Huey Lewis was gracious and all-around lovely during his visit to Amoeba Hollywood and talked with us about some of his favorite albums of all time.
John Darnielle started his home episode with one of the more memorable opening lines in the series and gave us a humorous glimpse into the challenges of filming at home: "Greetings and welcome to Listen to the Neighbors' Construction." It wasn't all construction talk however. Darnielle also shared some of the esoteric and eclectic albums he's been listening to at home, including Steve Roach, King Diamond, and Moor Mother.
Phonte and Rapper Big Pooh gave us one of the most entertaining episodes of the year. The hip-hop duo explored Amoeba Hollywood's book section, which came in particularly handy as we were all quarantining at home and needed recommendations to pass the time. They talked about Rakim's influence on rap, a transcendent Aretha Franklin concert film, the final Gang Starr album, and Bobby Brown's infamous story of cocaine fried chicken.
Stephin Merritt took his Amoeba tote bag to a mini golf course to share some of his favorite albums from his personal collection, giving us one of the most memorable locations we've had so far. Not only that, but he changed location with each pick! This was the record collecting mini golf crossover we never knew we needed.
Nic Offer from electro punk band !!! (Chk Chk Chk) went shopping at Amoeba San Francisco for soul and dancehall cassettes, world music compilations, 12" singles, and lots more.
Writer/director Rian Johnson and composer Nathan Johnson visited Amoeba Hollywood to sign copies of the soundtrack to their new film, Knives Out, and do some shopping. The collaborators (and cousins!) talked with us about concentrating on one musical theme in a film score, being exposed to different genres through Weird Al, their mutual love for Joanna Newsom & more.
One thing that's a bit easier to do with traditional episodes filmed in the store is to get an entire band together in one video. The English rock band Swervedriver went shopping at Amoeba Hollywood, giving us a chance to find out about everyone's influences, interests, and musical preferences, which included blues, folk, film music, rock autobiographies & more.
Musicians (and couple) Kevin Morby and Katie Crutchfield cozied up on their couch to share some of their favorite books and records from home. It's a special treat to get multiple artists to appear together in a home episode, as most bandmates are not quarantining together. It's an added bonus when the artists are as lovely and knowledgeable as these two.
Mexican singer/songwriter Ed Maverick went shopping at Amoeba Hollywood and talked about the first song he learned to play on guitar, the Neutral Milk Hotel album that became a meme, and growing up listening to Joan Sebastian. He also tells the story of how Lana Del Rey and Twenty One Pilots fans inadvertently helped expose him to other audiences.
Adam "Dev" Devonshire from British post-punk band IIDLES selected some records from his home collection, including Mogwai, The National, and The Sonics. We especially loved his personal stories and descriptions of the music. Abrasive techno anyone?
Matt Pike and Jeff Matz from Oakland-based metal band High On Fire went shopping at Amoeba Hollywood for Turkish psych, punk, jazz, and lots and lots of metal.
Nashville singer/songwriter Margo Price shares some of her favorite records from her home collection and talks about the protest songs of Buffy Sainte-Marie, Neil Young's lost album Homegrown, a Bobbie Gentry box set & more.
Indie rock band DIIV went shopping at Amoeba Hollywood for a very eclectic mix of hip hop, jazz, classical, shoegaze, electronic, lo-fi pop & lots more.
Comedians, actors, and podcast hosts The Sklar Brothers went shopping at Amoeba Hollywood for the latest albums from Vampire Weekend and Orville Peck, classic releases from Belle & Sebastian and The Rolling Stones, and they tell a story about playing basketball with Q-Tip.
When indie rock songwriters Nick Rattigan and Jacob Rubeck visited Amoeba Hollywood, we had no idea they were such huge movie fans. They dug into our Criterion section and talked with us about some of their favorite films, directors, and actors, explaining how cinema directly inspires the music they create.
One of the most memorable shoots from the 12 years we've been doing this series was when Gwar came to Amoeba Hollywood. They walked around the store picking out records, delighting and sometimes startling unsuspecting staff and customers alike. Seeing these large, intergalactic creatures casually reading a book or flipping through vinyl was just so much fun.