Live at Amoeba: Upcoming Shows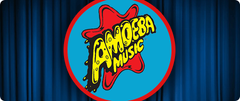 We are constantly hosting free live performances, DJ sets, and signing events at each of our three stores. All ages are welcome.
Our Next Show:
Hollywood
4/25 @ 6:00pm
Berkeley
2455 Telegraph Ave. Berkeley, CA 94704
There are no shows currently on the calendar.
Hollywood
6400 Sunset Blvd. Los Angeles, CA 90028

Bishop Briggs celebrates the release of her new album Church Of Scars (out 4/20 on Teleport/Island Records) with a live in-store mini-set and signing at Amoeba Hollywood!
The performance is free and all-ages. To attend the signing, purchase Church Of Scars in-store only at Amoeba Hollywood beginning April 20th. Space is limited!
Catch her live on May 4th at The Fonda Theater.
Thursday April 26th 6:30pm

Join us for a fun evening of celebrating and mingling with Kristi Funk, who has dedicated her life to education, prevention, and straight talk about breast cancer. Meet Kristi and get her new book BREASTS: The Owner's Manual signed, plus enjoy live music with L.A. singer-songwriter Cindy Alexander, some sips and sweets, conversation and more! We will have copies of the book available for purchase at the event as well as special pink Amoeba logo t-shirts (all t-shirt proceeds will go to Dr. Funk's foundation, Pink Lotus).

Top Shelf Records Jonathan "JDisko" Lastra has been a staple of the Los Angeles dance music scene since the mid '90s.

Preview the Hollywood Bowl's 2018 season at Amoeba Music on Sunday April 29th!
Come say hi, grab some Hollywood Bowl swag, listen to KCRW DJ Anthony Valadez spin some of the highlights of this season, and snag an Amoeba-exclusive promo code to purchase tickets to your favorite summer shows with no processing fees!
Available from noon-2pm in person only at the Hollywood Bowl table by the DJ booth at Amoeba Hollywood.
Anthony Valadez is a curator of local events in addition to being on air Monday nights on KCRW where he is celebrating 10 years on the station.
San Francisco
1855 Haight St. San Francisco, CA 94117
There are no shows currently on the calendar.