Live at Amoeba: Upcoming Shows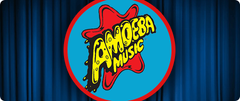 We are constantly hosting incredible free live performances, DJ sets, and signing events at each of our three stores. All ages are always welcome.
Our Next Show:
Hollywood
11/20 @ 6:00pm
Berkeley
2455 Telegraph Ave. Berkeley, CA 94704
There are no shows currently on the calendar.
Hollywood
6400 Sunset Blvd. Los Angeles, CA 90028

L.A.'s legendary DJ and tastemaker Richard Blade celebrates the release of his new autobiography, World In My Eyes, with a book signing at Amoeba Hollywood!
To attend: Purchase your copy of World In My Eyes in-store only at Amoeba Hollywood on November 20th. Signing space is limited to book purchasers only.
"He is as important to New Wave music as Benjamin Franklin was to kites." - Jimmy Kimmel
Thursday November 30th 6pm

Amoeba Hollywood is excited to welcome Mystery Science Theater 3000 cast members JONAH RAY, FELICIA DAY and HAMPTON YOUNT for an in-store signing of the new soundtrack.
To attend: purchase MST3K: The Return - Music From The Netflix Original Series (Shout Factory!) CD at Amoeba, Hollywood on 11/30 to get your copy signed and meet the cast!

Australian brother and sister duo return to Amoeba for a live performance and album signing. Purchase their new album, Snow at Amoeba to meet them/get copy signed after the in-store set (signing limited to new album purchasers, space is limited).
They play live at The Observatory in Santa Ana on 12/7 and a sold out show at The Fonda on 12/6.
"It's a typically rich return, laced with evocative songwriting." — Clash
Thursday January 18th 6pm

After releasing the politically charged solo album Eternally Even in 2016, My Morning Jacket front man Jim James returns with Tribute To 2, a collection of cover songs that reverberate with fresh meaning.
Purchase your copy at Amoeba Hollywood beginning December 8th to get your copy signed after his in-store performance.
San Francisco
1855 Haight St. San Francisco, CA 94117
There are no shows currently on the calendar.