Live at Amoeba: Upcoming Shows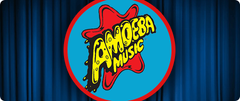 We are constantly hosting incredible free live performances, DJ sets, and signing events at each of our three stores. All ages are always welcome.
Our Next Show:
Hollywood
1/23 @ 5:00pm
Berkeley
2455 Telegraph Ave. Berkeley, CA 94704
There are no shows currently on the calendar.
Hollywood
6400 Sunset Blvd. Los Angeles, CA 90028

Fall Out Boy celebrates the release of their new album, Mania, with a special acoustic performance/set at Amoeba Hollywood.
To attend: Purchase Mania (CD or LP) in-store at Amoeba Hollywood beginning Friday, January 19th to receive GUARANTEED ADMISSION to this special in-store performance.
- 1 ticket per CD/LP purchased, max 2 per person.
- In-store purchases only (no online/phone orders).
- Limited to store capacity/space is limited.
- No signing/meet and greet for this event.
Wednesday January 24th 6pm

Bandleader Merrill Garbus and longtime collaborator Nate Brenner celebrate their new album with a live show and album signing at Amoeba Hollywood. I can feel you creep into my private life (4 AD) comes out on January 19th – purchase your copy at Amoeba Hollywood to attend signing after their performance.

Record collector and techno enthusiast Andrew Kelley playing everywhere from Berlin's Bar 25 to Moontribe's Mojave Desert parties. With over 20 years honing his craft he is one of LA's hidden talents. Catch him at a future warehouse near you.
Wednesday January 31st 6pm

Otherworldly bassist and iconic funk prophet Bootsy Collins visits Amoeba to sign copies of his new album World Wide Funk!
To attend this event and meet Bootsy, purchase your copy in-store only at Amoeba Hollywood ON JANUARY 31st. Space is limited. He will sign copies of World Wide Funk purchased at Amoeba only.
San Francisco
1855 Haight St. San Francisco, CA 94117

Amoeba SF throws a special advance listening event for PALM in celebration of the release of their sophomore effort, Rock Island (out February 9th on Carpark Records)! On Friday, February 2nd at 5pm, we'll play the album in its entirety and have copies of the LP & CD on hand a whole week early (INCLUDING the coveted, VERY limited-edition Light Blue vinyl version). This event is free and all-ages!

Australia's Chase Atlantic blurs the lines between a nocturnal aesthetic and primal bliss on their self-titled debut for Warner Bros. Records (out February 2nd). Catch them at Amoeba SF for a live set and signing before their show later that night at The Fillmore with Lights!
Tuesday February 13th 6pm

Join us in welcoming Hawaiian reggae band The Green for a special acoustic set and signing of their latest album, Marching Orders (available on vinyl and CD on Easy Star Records). Also catch them at the Fox Theater in Oakland on February 14th with J Boog.