Live at Amoeba: Upcoming Shows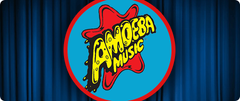 We are constantly hosting free live performances, DJ sets, and signing events at each of our three stores. All ages are welcome.
Our Next Show:
Hollywood
6/21 @ 6:00pm
Berkeley
2455 Telegraph Ave. Berkeley, CA 94704
There are no shows currently on the calendar.
Hollywood
6400 Sunset Blvd. Los Angeles, CA 90028

Dawes celebrates their new album, Passwords (HUB Records), with a live performance and album signing at Amoeba Hollywood. Purchase your copy at Amoeba on June 21st to get your copy signed/meet band after the show.
- Signing limited to copies of Passwords purchased in-store at Amoeba Hollywood only.
- Limit 2 per person.
- Space is limited.
- Performance is free/all ages. Signing is limited to purchasers of new album only.

Brendon Urie (Panic! At The Disco) celebrates release day of the new album Pray For The Wicked with a poster signing at Amoeba Hollywood!
Purchase your copy of Pray For The Wicked at Amoeba Hollywood on June 22nd to attend and meet Brendon Urie
- Purchasers will receive an exclusive lithograph to be signed.
- Fans must purchase Pray For The Wicked CD or LP at Amoeba in order to have access to the signing.
- One per person, no multiples.
- Only signing the poster provided by Amoeba/DCD2 Records.
- No photos.
- Space is limited.

Demetrius Bee (Meech.la) is a Los Angeles native, born and raised in the Los Angeles party culture. From deejaying his first party at a 3rd-grade show and tell, creating mixtapes for his cousin's low rider club to now, spinning all across the globe with his love of music.

The Interrupters are an L.A. based four-piece bound by their rebel spirit and deep love of punk, rock, ska and 2 Tone. They celebrate their third studio album release, Fight The Good Fight (Hellcat Records), with a live performance and album signing at Amoeba Hollywood. Purchase Fight The Good Fight at Amoeba Hollywood on 6/27 to meet the band and get your copy signed after their performance.

De'Anza brings her hypnotic, Latin-electronic meets alternative- psychedelic music to Amoeba to celebrate the release of her new EP, Cosmic Dream. Purchase your copy at the in-store to attend signing post-show.
"Powerful writing and a clever mixture of contemporary and traditional Mexican music." - Felix Contreras, NPR Music
She'll play Friday, July 13th at The Study in Hollywood.

Dirty Dave has been heavily involved in the Los Angeles underground since his arrival a decade ago. Currently, Dave is a resident on The Rooftop at The Standard, Downtown LA and host of weekly radio show Things Of Life on dublab, which airs every Friday from 10am - Noon.
San Francisco
1855 Haight St. San Francisco, CA 94117

San Francisco-based acoustic Gypsy Jazz septet Barrio Manouche celebrate the release of their debut album, Aires de Cambio, with a live set and signing at Amoeba SF on Saturday, June 23 at 2pm.

The Fort Worth, TX alternative rock mavericks The Unlikely Candidates play live and sign their new deluxe EP, Danger To Myself, at Amoeba SF on Sunday, June 24th at 2pm. Also catch them later that night at Cornerstone in Berkeley.

The classic debut Guns N' Roses album Appetite For Destruction turns 30 years old this year and it's getting the remaster treatment! Join us at Amoeba SF on release date -- Friday, June 29th at 5pm -- as we pay tribute to Appetite with an Axl Rose look-a-like contest we're calling Night of 1,000 Axls! That's right, come dressed as your favorite-era Axl while we spin the remastered record in its entirety and YOU could win a $100 Amoeba Gift Certificate! DJ KELLS will also be on hand playing the biggest hits of the 1980's Sunset Strip, so get that Aqua Net ready.
This event is free, all-ages, and open to all species. DO YOU KNOW WHERE YOU ARE?!?