Auctions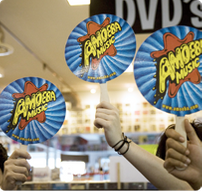 Every Other Month at Amoeba Hollywood - 4PM
In early September 2005, after Hurricane Katrina ravaged Louisiana, Amoeba Hollywood began hosting charity auctions to help raise money for the Gulf Coast Relief Efforts. Our Hollywood store continues to auction off items including memorabilia, collectibles, promotional items, concert tickets, plus much, much more. To help increase funds, Amoeba matches all individual donations and accepted bids up to $1,000!

Auctions have included everything from Slayer promotional underwear to Michael Jackson puffy stickers (with winning bids of $5 - $20) and Devo hats,; from Brian Wilson box seats for 4 at the Hollywood Bowl (which went for $550) to a pair of tickets to a sold-out Supergrass show for $200, along with gift certificates from our generous neighbors (Trader Joe's, Laemmle Theaters, Arclight, Intelligensia Coffee, and others). With the Amoeba match, each item brings in double the money!

Since 2005 we have raised more than $400,000 for various charities through our auctions, on-site customer donations, Amoeba's matching contributions, and special events.

Check out our Live Shows calendar for information on any upcoming auctions.
Current Charity Auctions Benefit the Following Organizations as well as Our Ongoing Gulf Relief Efforts.
For more information on these organizations and to obtain a list of resources if you would like want to donate or volunteer directly, Amoeba has made a "How You Can Help" pamphlet available at all Amoeba Music locations.