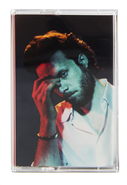 $10.98
Currently Unavailable
Artist:
Father John Misty
Genre:
Rock
Release Date:
06/01/2018
Label:
Sub Pop Records
Catalog Number:
SP1245
Recording:
Studio
Length:
Format:
Cassette


NOW OPEN!
Visit our new Berkeley
Cannabis Dispensary
located next door!
God's Favorite Customer (Cassette)
Father John Misty
Currently Unavailable
$10.98
Amoeba Review
Davis's Snack Shack, Hollywood 06/01/2018
Wow! This record was my first introduction to this guy. Hearing track 3, "Just Dumb Enough To Try," on a random selection and I was hooked. The subject matter is personal and I appreciate his open book songwriting. Melodic, thought-provoking and soulful… I can't get enough of this record.
Overall Rating
0 Submissions