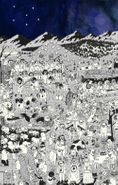 $10.98
Currently Unavailable
Artist:
Father John Misty
Genre:
Rock
Release Date:
04/07/2017
Label:
Sub Pop Records
Catalog Number:
1200
Recording:
Studio
Length:
Format:
Cassette
Pure Comedy (Cassette)
Father John Misty
Currently Unavailable
$10.98
Amoeba Review
On Pure Comedy, we find the troubadour musing about his life, society, and pop culture over downbeat folk rock melodies. The title track is insightful, intense, and hard-to-forget. All in all, Father John Misty provides the perfectly melancholy, dryly funny, and surprisingly moving soundtrack to our times.
Overall Rating
0 Submissions