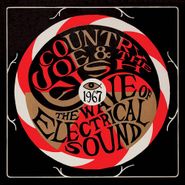 $99.98
Buy
Artist:
Country Joe & The Fish
Genre:
Rock
Release Date:
02/02/2018
Label:
Craft Recordings
Catalog Number:
CR00023
Recording:
Studio
Length:
Format:
Vinyl LP
Note:
•4LP+DVD
•180 Gram Vinyl
•Celebrating the 50th anniversary of Bay Area psych-rock band Country Joe & The Fish's two cornerstone 1967 titles, Electric Music For The Mind And Body and I-Feel-Like-I'm-Fixin-To-Die.
•This deluxe vinyl box set offers both LPs in their stereo and mono configurations – four LPs in total.
•Faithful reproductions of the original jackets.
•A 30-minute documentary DVD on the band by David Peoples (Blade Runner, Unforgiven, 12 Monkeys)
•A handful of replicated ephemera from the band's heyday rounds out the package.
The Wave Of Electrical Sound [Box Set] (LP)
Country Joe & The Fish
Buy
$99.98
SHIPS FREE
in U.S.
Overall Rating
0 Submissions