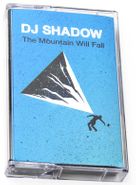 $11.98
Currently Unavailable
Artist:
DJ Shadow
Genre:
Electronic-Dance
Release Date:
10/08/2016
Label:
Catalog Number:
34
Recording:
Studio
Length:
Format:
Cassette


NOW OPEN!
Visit our new Berkeley
Cannabis Dispensary
located next door!
The Mountain Will Fall (Cassette)
DJ Shadow
Currently Unavailable
$11.98
Amoeba Review
On DJ Shadow's first album in five years, the hip-hop/electronica producer proves he's still one of the most forward-thinking artists in the game. The album finds Shadow pushing his limits even further, but half the fun is guest appearances from Run the Jewels, German composer Nils Frahm, and others.
Overall Rating
0 Submissions