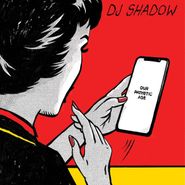 $32.98
Currently Unavailable
Artist:
DJ Shadow
Genre:
Electronic-Dance
Release Date:
11/15/2019
Label:
Mass Appeal
Catalog Number:
0088
Recording:
Studio
Length:
Format:
Vinyl LP
Our Pathetic Age (LP)
DJ Shadow

Currently Unavailable
$32.98
SHIPS FREE
in U.S.
Amoeba Review
DJ Shadow's Our Pathetic Age is urgent, pleasurably menacing, and smart. The atmosphere is generally dystopian, with moments of light accentuating the shadows, and glimpses of beauty peaking through the intensity of Shadow's subject matter. Raekwon, Dave East, Pusha T, and Pharoahe Monch provide intelligent flows with unsettling lyrics as Shadow sets the vibe through moody synths and seamless sampling. If it sounds like a downer, worry not. Our Pathetic Age is perfectly suited for, well...our tumultuous age, in all its simultaneous fear and hope.
Overall Rating
0 Submissions