The Dead Zone
Dir. David Cronenberg, 1983. Starring: Christopher Walken, Brooke Adams, Tom Skerritt, Martin Sheen. Horror.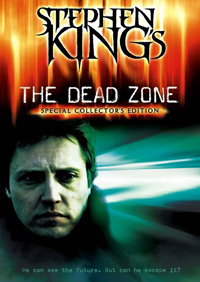 David Cronenberg. Stephen King. Christopher Walken. You need no other excuse to check out this movie other than the fact that it's the one and only time that those three names shared credit space at the opening of a film; and at a time when they were all creatively at the top of their game as director, writer and actor respectively. The Dead Zone is based on King's successful novel of the same name, adapted for the screen by Jeffrey Boam (with a polish by David Cronenberg) and stars Christopher Walken at a time just before he became the "go-to" eccentric character actor in just about everything.

Walken plays Johnny Smith, a content school teacher who has a passion for his job, the admiration of his students and is engaged to the love of his life. But one fateful night, he's involved in a terrible car accident that puts him in a coma. When he awakens, six years have passed, his limbs have suffered from atrophy, his job is gone and his fiance is now married to another man and a mother to a child that isn't his. But he's also awoken from his deep slumber with an unlikely gift; the gift of second sight. One mere touch and he's able to not only see your past and present, but also see your future.
Continue Reading
Posted by:
Rob Galluzzo
Sep 30, 2011 12:06pm
Bereavement
Dir. Stevan Mena, 2011. Starring: Michael Biehn, John Savage, Alexandra Daddario,Spencer List, Brett Rickaby. Horror.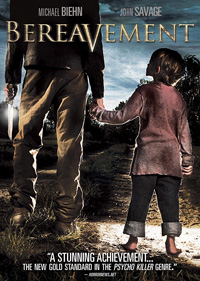 Let me cut right to the chase. Bereavement is a real-deal horror film in the sense that it depicts some of the most horrific things I've ever seen in a genre movie. But the nastiness is necessary and the payoff is earned in the delicate and capable hands of a skilled filmmaker/storyteller such as writer/director Stevan Mena. Yes, this film also acts as a prequel to Mena's debut feature Malevolence, but it's also a rare anomaly in the genre. It's a film that strives to satisfy two different audiences; those that love the first film and want to learn the backstory that comes before the original. And then there are those who are simply walking into it blindly just wanting to see a new, original horror movie. In that regard, he succeeds at delivering what both audiences would want with Bereavement. The biggest difference between the two is that if you already know the previous feature, you kind of know where this story has to inevitably end in order to line-up with Malevolence; whereas newcomers will probably be shocked by the grim, dark descent that the story takes.

Bereavement opens pretty much the same way that Malevolence does; with the kidnapping of little Martin Bristol at the hands of deranged serial killer Graham Sutter. It then cuts 5 years later, and we follow Allison Miller (Alexandra Daddario), a young teen who is forced to move in with her uncle Jonathan (Michael Biehn) and his family after losing her parents in a car accident. She takes some solace in her budding new relationship with her neighbor William (Nolan Funk), whom her uncle doesn't approve of. But William also has problems of his own. He struggles to care for his verbally abusive, invalid father with hopes of one day "getting outta this town." The great thing about the story arcs of both Allison and Martin is that they run concurrently and eventually collide. Much like Mena did with Malevolence, he's again combining two genres in the same feature. For Malevolence, it was the action heist film that became a "slasher" movie. Here, it's pretty much a serious, straightforward hardcore drama that eventually becomes a "slasher" flick.
Continue Reading
Posted by:
Rob Galluzzo
Sep 27, 2011 9:48pm
Malevolence
Dir. Stevan Mena, 2004. Starring: Brandon Johnson, Heather Magee, Keith Chambers, Richard Glover. Horror.
One of the most remarkable things about the movie Malevolence is how much it authentically captures the vibe and spirit of the early '80s "slasher" films it tries to homage with such reverence. In fact, after I initially saw it in its limited theatrical run back in 2004, I immediately jumped online to confirm that it was in fact a recently made feature film and not a long lost gem from the '80s that was only just then surfacing. Sure enough, upon a bit more research, I discovered that the goal of writer/director Stevan Mena was to emulate the horror films that had had such a profound impact on him growing up. And in that regard, he completely succeeded.

Malevolence opens with the kidnapping of Martin Bristol, a 6-year old boy from Pennsylvania who is forced to watch the evil deeds of his deranged captor, serial killer Graham Sutter. The film then cuts ahead 10 years later where we're introduced to Julian (Brandon Johnson) and Marylin (Heather Magee) who along with Marylin's brother Max (Keith Chambers) and Kurt (Richard Glover) are planning a daytime bank robbery. When things don't go according to plan and the robbery is completely botched, the criminals flee with 2 hostages to their rendezvous point out in the countryside of Pennsylvania, just next to the old Sutter place and meat & poultry slaughterhouse. When they venture out towards the Sutter property, they inadvertently garner the attention of the long dormant killer at the house and uncover the horrors that have been going on there for over a decade. From then on, it's just a matter of trying to survive the night.
Continue Reading
Posted by:
Rob Galluzzo
Sep 23, 2011 6:18pm