Movies We Like
The Dead Zone
Dir. David Cronenberg, 1983. Starring: Christopher Walken, Brooke Adams, Tom Skerritt, Martin Sheen. Horror.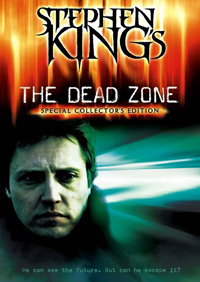 David Cronenberg. Stephen King. Christopher Walken. You need no other excuse to check out this movie other than the fact that it's the one and only time that those three names shared credit space at the opening of a film; and at a time when they were all creatively at the top of their game as director, writer and actor respectively.
The Dead Zone
is based on King's successful novel of the same name, adapted for the screen by Jeffrey Boam (with a polish by David Cronenberg) and stars Christopher Walken at a time just before he became the "go-to" eccentric character actor in just about everything.
Walken plays Johnny Smith, a content school teacher who has a passion for his job, the admiration of his students and is engaged to the love of his life. But one fateful night, he's involved in a terrible car accident that puts him in a coma. When he awakens, six years have passed, his limbs have suffered from atrophy, his job is gone and his fiance is now married to another man and a mother to a child that isn't his. But he's also awoken from his deep slumber with an unlikely gift; the gift of second sight. One mere touch and he's able to not only see your past and present, but also see your future.
A good portion of the story revolves around Smith adapting and coping to his newfound gift (or curse, as he sees it). The emotional complexity with which Walken has to work makes for an incredible character arc. Right upon his awaking, he touches his female nurse and saves her daughter after he has a vision of her in a house fire. This, along with his reawakening garner media attention and there's an incident at the press conference when a journalist tries to push Johnny on his "abilities." Once word of his "gift" gets out there, people either fear Johnny or want his help. Enter Sheriff Bannerman (played by the always great Tom Skerritt!) who comes to Johnny asking for help on solving a serial killer case. (Ah yes, here comes that horror element!) Reluctantly, he agrees to help and this sets Johnny off on what would inevitably become his hero's journey.
What stands out here, as opposed to Cronenberg's previous work, is the love story between Johnny and Sarah (Brooke Adams). While most of the relationships in Cronenberg's early work feel cold and clinical, you can pretty much feel the heartbreak and hurt in the facial expressions of Walken every single time he crosses paths with his one true love. You get the feeling of how unfair it all really is. It's not that Sarah doesn't still harbor feelings for Johnny, but it's just the circumstances of fate that have put them in their current positions. And it's interesting, because this "love" relationship laid the groundwork for what Cronenberg would do in his next film,
The Fly
, which arguably works so well because of the love story between Seth Brundle (Jeff Goldblum) and Veronica (Geena Davis). Don't worry, while this might be the most restrained Cronenberg film in terms of sex and violence, there is one nasty bit involving a suicide by scissor that is most definitely a Cronenberg addition to this movie. I cringe just thinking about it!
Concurrently in
The Dead Zone
's story, there is the political rising of Greg Stillson (played with great creepy zest by Martin Sheen), who envisions himself as the President of the United States one day. After a chance encounter with Johnny, Stillson is right, he will one day become president, but he'll also set off World War III. And suddenly Johnny's purpose becomes clear. He was never meant to be with the love of his life or be the father to her child. He came back with his gift to stop this one man from destroying humanity.
The thing that works so beautifully about
The Dead Zone
is that it doesn't follow the traditional three act structure of a horror film, but instead, if anything it very much follows the "superhero" template. The first act is the hero's origin, the story of how he gained his power. In the second act, he's reluctant to use this gift (or curse) and refuses until he realizes that he can't stand by idly when he can help people with his newfound power. The third act is him fully accepting his power and responsibilities and realizing that he was brought back for a bigger purpose; to stop a threat that will inevitably destroy the world, so he must make the ultimate sacrifice to save all of us. Trademark stuff that superhero comics (and movies) are made of.
Another thing worth noting about
The Dead Zone
is that it marks David Cronenberg's only film since
The Brood
without his usual composer Howard Shore. Since Shore was tied up on another film project, the filmmaker enlisted Michael Kamen to deliver the mournful lush tones of Johnny Smith and it stands out as some of Kamen's best work, as well as the most unique music of Cronenberg's filmography. (Shore returned for his next film,
The Fly
.)
Personally, I'm a huge fan of all the creative talents involved in this film, but this also stands out as my favorite King story, my favorite Cronenberg film, and my favorite performance by Christopher Walken, as well as one of his most quotable. ("The ICE…is gonna break!") If you're a fan of any of those three, then
The Dead Zone
is mandatory viewing.
Fun fact: In Christopher Walken's first scene as Johnny Smith, he's reading Edgar Allan Poe's
The Raven
to his students in class and assigns them
The Legend Of Sleepy Hollow
as their homework. Years later, he would read
The Raven
for the audio CD release
Closed on Account of Rabies: Poems and Tales of Edgar Allan Poe
and play the headless horseman in Tim Burton's 1999 film version of
Sleepy Hollow
starring Johnny Depp!
Posted by:
Rob Galluzzo
Sep 30, 2011 12:06pm