Thundercrack!
Dir: Curt McDowell, 1975. Starring: Marion Eaton, Melinda McDowell, George Kuchar. Smut.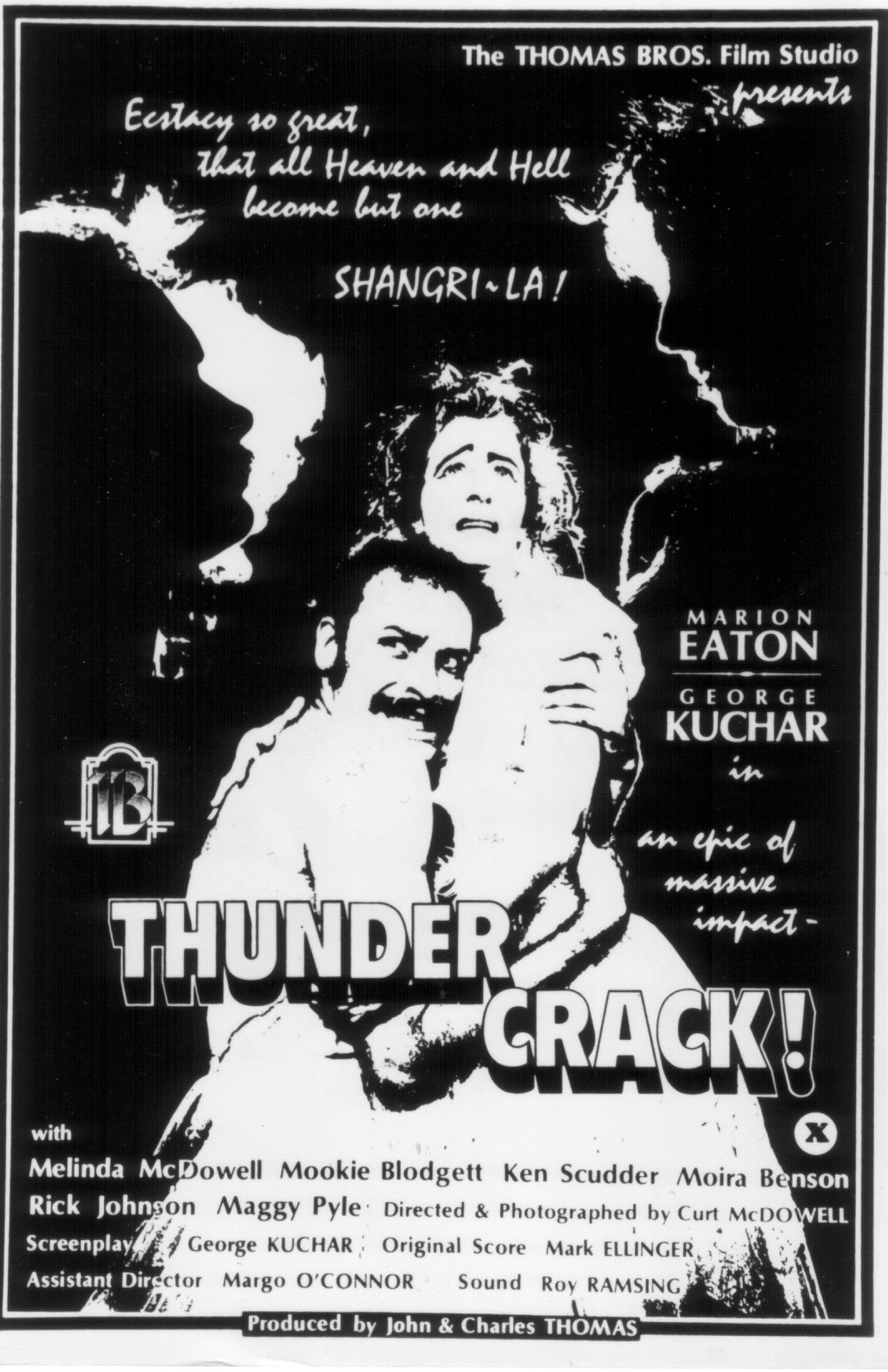 It's fairly safe to say that those who consider themselves cineastes or cinefiles have a series of genres in which they feel quite knowledgeable. In retrospect, they often praise these films on the obvious basis that they think they're superior to other genres in many ways. A horror buff will scoff at the claim that classic dramas are unmatchable in terms of style and entertainment, and vice versa. The irony behind these arguments is that underneath every film is just a story—some fantastical and others quite plain. Film does not reflect life and human consciousness so much as it interprets these things and distorts them for the viewer. Everyone walks away with their own subjective thoughts because of a mirrored element, or lack of, which they can relate to. The magic is in the varied levels in which a film can affect a wide range of people. If there is any sense or weight to my claim here, you won't find a broader or more distorted film than Thundercrack!.

Rarely will a person like myself glorify or reference a film that is classified as smut. Perhaps it's because modern smut is lacking in something quite important: a story that can hold itself up without the exposure of genitals. Thundercrack!, written by and starring George Kuchar (1942–2011) and directed by his good friend (possible ex-lover) Curt McDowell (1945–1987), is a parody film like nothing you've ever seen and is now among my top 20 favorite movies. It pays homage to just about every genre, specifically horror, Noir, fantasy and comedy, and presents the viewer with something very extraordinary.
Continue Reading
Posted by:
Edythe Smith
Oct 5, 2011 5:28pm
The Delirious Fictions of William Klein - Eclipse from Criterion
Dir: William Klein. 2008. English. Smut/Cult.
One word.... FINALLY! Here's to hopes that Klein's name will extend out of the art house arena (and out of the jungle of highly sought out rare/bootleg versions of his films) ... thanks to Criterion's Eclipse imprint we can finally view three of the most aesthetically unique films of the 60s and 70s. An ex New Yorker that set up in Paris in the 40s, photographer William Klein embodied the bold and iconic early 20th century art styles, a visionary that sought to change how artists made art and how audiences viewed it. Edgy political and social commentary, haute-monde fashion experiments, a brilliant eye for composition and insightful narratives (and films that attracted the like of Serge Gainsbourg as one of his gonzo character creations!)...This is the psychedelic world of William Klein!...
Continue Reading
Posted by:
Amoebite
May 21, 2008 8:42pm