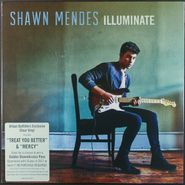 Currently Unavailable
Artist:
Shawn Mendes
Genre:
Rock
Release Date:
10/28/2016
Label:
Island
Catalog Number:
B0025735-01
Recording:
Studio
Sound:
Stereo
Length:
Format:
Vinyl LP
Illuminate [Clear Vinyl] (LP)
Shawn Mendes
Currently Unavailable
SHIPS FREE
in U.S.
Amoeba Review
Former Vine star Shawn Mendes delighted fans with his debut album, Handwritten. For his sophomore release, Illuminate, the young singer-songwriter gets more personal with his lyrics, while continuing to serve up well-crafted pop hooks and solid adult contemporary melodies. With his nimble vocals and nods to influences like John Mayer and Jason Mraz, the album mixes chill soul with lively numbers and romantic ballads.
Overall Rating
0 Submissions