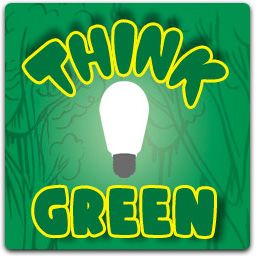 Amoeba Goes Global
We donate a portion of our profits each year to the Rainforest Action Network. To date we have helped save over 1,000,000 acres of tropical rainforest. Please contact the Rainforest Action Network or another organization involved in helping to save our earth from selfish exploitation!

Rainforest Action Network (RAN) works to protect the Earth's rainforests and support the rights of their inhabitants through education, grassroots organizing, and non-violent direct action. RAN accomplishes its mission through dynamic, hard-hitting campaigns that work to bring corporate and governmental policies into alignment with popular support for rainforest conservation. RAN works in alliance with environmental and human rights groups around the world, including indigenous forest communities and non-governmental organizations in rainforest countries.
Get Some Think Green Gear!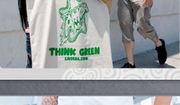 100% organic
All of our Think Green Bags & T-Shirts are made from 100% organic cotton. Available at all three of our Amoeba Music locations as well as online in our gear section.
10 Steps For a Greener Tomorrow
1
Change a lightbulb to compact fluorescent
Save money and energy! Available at our Hollywood store!
2
Drive less
Use mass transit carpools. Walk or bike for short trips.
3
Recycle more
Buy more recycled products
4
Check Your Tires
Correct air pressure saves you gas.
5
Save Water
Use less hot water, wash laundry in cold and install low flow showerheads. (If you are in the SF Bay Area you can get water conserving devices for free through EBMUD.)
6
Be A Minimalist
Avoid excess packaging (cut your garbage by 10% and save 1,200 lbs. of carbon dioxide per year).
7
Adjust Your Thermostat
Not too hot, not too cold. 76 degrees in the summer. 68 degrees in the winter.
8
Plant A Tree
Over it's life a tree absorbs 1 ton of carbon dioxide.
9
Turn It Off
Shutting off electronic devices when not in use saves 1,000's of lbs. of carbon dioxide per year.
10
Spread The Word - Set An Example!
Encourage your friends and family to take steps towards a greener planet too.