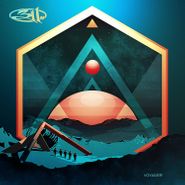 $16.98
Currently Unavailable
Artist:
311
Genre:
Rock
Release Date:
07/12/2019
Label:
BMG Rights Management
Catalog Number:
84848
Recording:
Studio
Length:
Format:
CD

Currently Unavailable
$16.98
SHIPS FREE
in U.S.
Amoeba Review
08/06/2020
For 311's eclectic thirteenth album, the group merges the pop/reggae/rock they invented in the '90s – influencing newer acts like Twenty-One Pilots – with some updated pop soundscapes, aided by John Feldmann (Blink-182, Panic! At the Disco) who produced four of the tracks. "Good Feeling" is an infectious summer party jam, in the vein of The Black-Eyed Peas' "I Gotta Feeling." "Don't You Worry" brings back the band's distinctive grungy ska guitar sound with some spaced-out soloing, while "What The?!" revels in some psychedelic funk. "Crossfire," in turn, is a high-energy rock song with rapping vocals that ought to appeal to fans of Linkin Park.
Overall Rating
0 Submissions