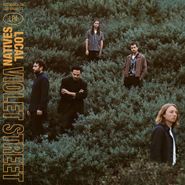 $16.98
Currently Unavailable
Artist:
Local Natives
Genre:
Rock
Release Date:
04/26/2019
Label:
Catalog Number:
614
Recording:
Studio
Length:
Format:
CD


NOW OPEN!
Visit our new Berkeley
Cannabis Dispensary
located next door!
Violet Street (CD)
Local Natives
Currently Unavailable
$16.98
SHIPS FREE
in U.S.
Amoeba Review
08/31/2020
After nearly ten years in the indie rock game, Local Natives sound fresher and more vital than ever on their new album, Violet Street. The band have mastered the art of layering vocal harmonies over smooth yet heart-rending melodies, creating gorgeous songs that are simultaneously funky and soul-stirring. Need a slightly melancholy toe-tapper? That's "When Am I Gonna Lose You." Looking for the perfect soundtrack for your desert road trip? There's the sweeping, cinematic "Cafe Amarillo." Violet Street is all killer, no filler, a perfectly polished pearl of a record.
Overall Rating
0 Submissions