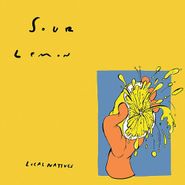 View all Photos
$19.98
Currently Unavailable
Artist:
Local Natives
Genre:
Rock
Release Date:
11/20/2020
Label:
Loma Vista
Catalog Number:
1160
Recording:
Studio
Length:
Format:
Vinyl 10"
Note:
Turquoise Blue Vinyl
Limit One Per Customer
Sour Lemon [Turquoise Blue Vinyl] (10")
Local Natives
Currently Unavailable
$19.98
SHIPS FREE
in U.S.
Amoeba Review
Local Natives kick off their new 4-song EP, Sour Lemon, with a duet with Sharon Van Etten, a folky number called "Lemon" that paints a bittersweet portrait of life in Los Angeles. Quirky rhythms and lush guitar carry along "Statues in the Garden" lightly, while "Lost" is a melancholy toe-tapper. "Future Lover" wraps things up with a slightly brighter sound, never disrupting the overall chill effect of this short set.
Overall Rating
0 Submissions