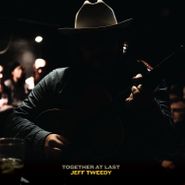 $13.98
Buy
Artist:
Jeff Tweedy
Genre:
Rock
Release Date:
06/23/2017
Label:
ANTI-
Catalog Number:
87534
Recording:
Studio
Length:
Format:
CD


NOW OPEN!
Visit our new Berkeley
Cannabis Dispensary
located next door!
Together At Last (CD)
Jeff Tweedy
Buy
$13.98
SHIPS FREE
in U.S.
Amoeba Review
From whisky-drunk country rock buskers Uncle Tupelo to masters of the studio-as-an-instrument Wilco, Jeff Tweedy's songwriting may take on many guises, but on Together At Last, he connects the dots between them all simply by doing what he does best: picking up a guitar and laying his soul down bare.
Overall Rating
0 Submissions