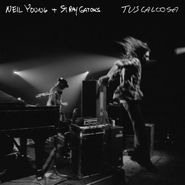 $16.98
Currently Unavailable
Artist:
Neil Young
,
Stray Gators
Genre:
Rock
Release Date:
06/07/2019
Label:
Reprise
Catalog Number:
587621
Recording:
Live
Length:
Format:
CD
Note:
Live At The University Of Alabama, 2/5/1973
Tuscaloosa (CD)
Neil Young , Stray Gators

Currently Unavailable
$16.98
SHIPS FREE
in U.S.
Amoeba Review
08/10/2020
The newest release in Neil Young's Archives series is a live recording of his February 1973 concert at the University of Alabama with his band The Stray Gators: Tim Drummond, Jack Nitzsche, Ben Keith and Kenny Buttrey (replaced by Johnny Barbata shortly after). Previously unreleased - Time Fades Away was the live album issued that year instead - Tuscaloosa reveals Young and the band in full stride and with a laidback but urgent sound. The set includes some uncharacteristic stage banter in the way of a few song introductions from Young, and the live sound is excellent.
Overall Rating
0 Submissions