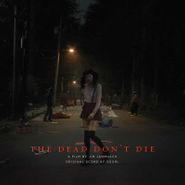 $27.98
Buy
Artist:
SQÜRL
Genre:
Soundtracks
Release Date:
10/04/2019
Label:
Sacred Bones
Catalog Number:
227C1
Recording:
Studio
Length:
Format:
Vinyl LP
Note:
Bloody LeMans Colored Vinyl
LIMIT 1 PER CUSTOMER


NOW OPEN!
Visit our new Berkeley
Cannabis Dispensary
located next door!
The Dead Don't Die [OST] [Bloody Vinyl] (LP)
SQÜRL
Buy
$27.98
SHIPS FREE
in U.S.
Amoeba Review
07/28/2020
The bizarrely titled SQÜRL is the union of producer Carter Logan and renowned indie filmmaker Jim Jarmusch. A gleefully strange musical detour into found sounds and laconic stoner rock tempos, along with Jarmusch's distorted and droning "cowboy chords," SQÜRL make heavily atmospheric anti-rock. As the soundtrack for Jarmusch's satirical zombie film of the same name, The Dead Don't Die features appropriately darker melodies, with minor key and Phrygian modes aplenty, as well as some classic horror-movie keys, but the recipe remains largely the same.
Overall Rating
0 Submissions