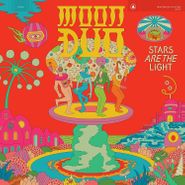 $24.98
Currently Unavailable
Artist:
Moon Duo
Genre:
Rock
Release Date:
09/27/2019
Label:
Sacred Bones
Catalog Number:
228-C1
Recording:
Studio
Length:
Format:
Vinyl LP
Note:
Opaque Red Vinyl
Limit One Per Customer

Stars Are The Light [Opaque Red Vinyl] (LP)
Moon Duo

Currently Unavailable
$24.98
SHIPS FREE
in U.S.
Amoeba Review
07/28/2020
Moon Duo have always strived for a cosmic consciousness in their music, with each album offering up varying examples of the yin and yang coexistence of darkness and the light. On their latest release Stars Are The Light, the pair have chosen to focus more on the lighter side of their psychedelic electric world, creating percolating and swirling odes perfect for a mass of beings looking to converge for the ultimate be-in on the bright side of the moon. The candy-colored artwork aptly describes the vibes contained within this gently undulating party in space.
Overall Rating
0 Submissions