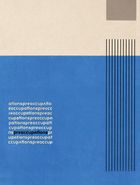 $10.98
Currently Unavailable
Artist:
Preoccupations
Genre:
Rock
Release Date:
09/16/2016
Label:
Jagjaguwar
Catalog Number:
290
Recording:
Studio
Length:
Format:
Cassette
Preoccupations (Cassette)
Preoccupations
Currently Unavailable
$10.98
Amoeba Review
The Canadian post-punk band formerly known as Viet Cong is back as Preoccupations. As can be expected for the genre, you'll hear The Cure-style guitars, Echo and the Bunnymen-esque washes of sound, and Ian Curtis-inspired vocals, but this isn't a mere retread. The album features moments of blistering, brutal beauty, hypnotic riffs, and melancholy melodies.
Overall Rating
0 Submissions