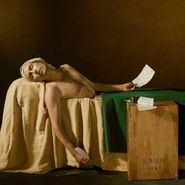 $26.98
Currently Unavailable
Artist:
Andrew Bird
Genre:
Rock
Release Date:
03/22/2019
Catalog Number:
557
Recording:
Studio
Sound:
Stereo
Length:
Format:
Vinyl LP
My Finest Work Yet (LP)
Andrew Bird

Currently Unavailable
$26.98
SHIPS FREE
in U.S.
Amoeba Review
09/02/2020
Andrew Bird's swirl of folk, classical violin, swing and indie rock sounds fresh and bright on his new album, whose title is probably tongue-in-cheek but perhaps fitting. "Sisyphus" is a lovely, lilting number with a melody that harkens back to Chutes Too Narrow-era Shins. "Manifest" swoons with a throwback '60s feel, benefiting from Bird's decision in the studio to allow bleed between the tracks. The overall theme of the album is politics, leading off with the single "Bloodless," a bluesy, plodding warning about those in power, with a touch of gospel in the chorus.
Overall Rating
0 Submissions