Movies We Like
Handpicked By The Amoeba Staff
Films selected and reviewed by discerning movie buffs, television junkies, and documentary diehards (a.k.a. our staff).
Small Town Gay Bar is a sometimes sad, s… View

Based on Nicholas Pileggi's real l… View
Green Lantern
Dir: Martin Campbell, 2011. Starring: Ryan Reynolds, Blake Lively, Peter Sarsgaard, Tim Robbins. Superheroes/Comics.
The Baader Meinhof Complex
Dir: Uli Edel, 2008. Starring: Moritz Bleibtreu, Martina Gedeck, Johanna Wokalek. Foreign.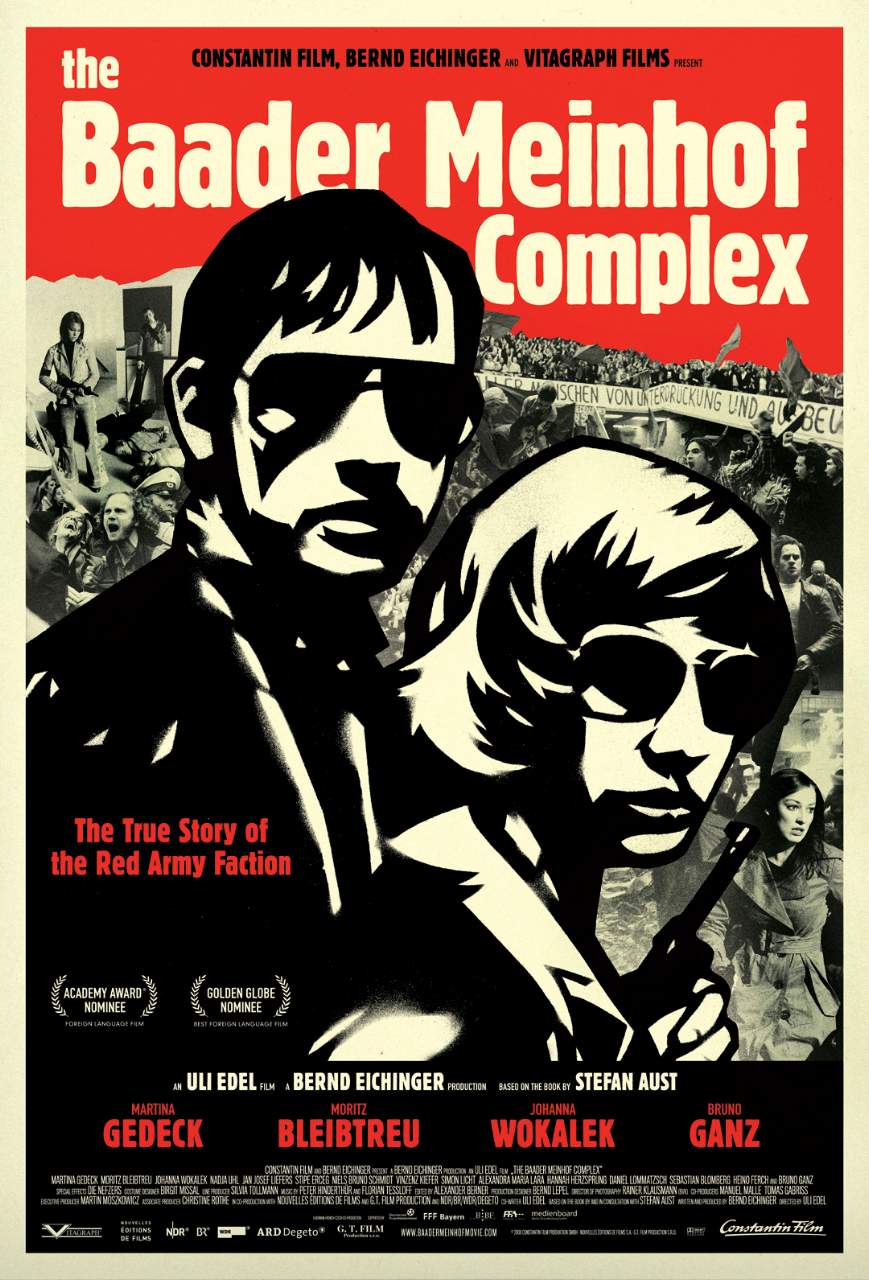 Stunningly shot and perfectly conceived, the best historical political thriller in recent years is director Uli Edel's The Baader Meinhof Complex, a film about the West German radical group, the RAF—Red Army Faction—who reigned from 1967–77. Inspired by cultural revolutions in Paris and Czechoslovakia they took the baton from American outfits like the Black Panthers and the Weathermen and raised the stakes by about a hundred. Unlike other great political films like Z, State of Siege, Bloody Sunday, Che, and even Munich, Edel, best known for his American film Last Exit to Brooklyn back in '89, does not go with the traditional handheld docu-realism style but a slick look, with long dolly shots (ala Boogie Nights) and a smooth editing style. In this age of terrorism paranoia, here is a film like Battle of Algiers that tries to explain the motives behind the action, but not justify them or even glamorize them. These were true believers in the cause but also groovy party rebels who just didn't want to be like their parents and broke from the longstanding rule of German conformity.

German counter-culture radicals of the '60s and '70s have been portrayed in both real life and fictional accounts in films a number of times before; most famously there was Volker Schlondorff's The Legend of Rita and Rainer Werner Fassbinder's The Third Generation. Schlondorff also directed with his then wife, Margarethe von Trotta, the classic The Lost Honor of Katharina Blum, while Marco Bellocchio's Good Morning, Night covered the Italian counterparts in the same period. And more recently the story of Uschi Obermaier, the '70s German terrorist/supermodel, had her wild life made into a movie, Eight Miles High. And then there was Olivier Assayas's epic Carlos about the international super criminal. So this is fertile ground that has been covered from many angles for the last 30-something years, but The Baader Meinhof Complex feels like the most authoritative, final statement on the subject, at least from the German side of history.
Continue Reading
Posted by:
Sean Sweeney
Jun 18, 2012 5:25pm
Thor
Dir: Kenneth Branagh, 2011. Starring: Chris Hemsworth, Natalie Portman, Tom Hiddleston, Anthony Hopkins. Superheroes/Comics.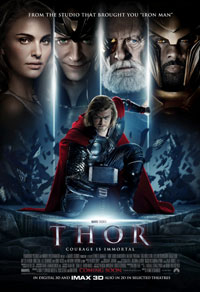 Growing up an avid comic book fan, I always fancied myself a Marvel kid over a DC kid. It's not that I didn't appreciate the cinematic versions of both Superman and Batman, I loved those, but I often found myself relating more to the characters of the Marvel universe, in particular Spider-Man who was always my favorite superhero. Through Spidey, I of course discovered The Incredible Hulk, Iron Man, and the X-Men books to name a few, but I honestly never found myself into any of The Mighty Thor material. Sure, I read The Avengers and also dug when Thor would interact with the other superheroes of the Marvel Universe, but I never found myself a "fan" of the character or intrigued by his mythology, which in actuality is Norse. So with that in mind, when I watched the movie version of Thor, I had very little expectation or trepidation. I just wanted to enjoy it as a piece of straight-forward popcorn entertainment, and hope that it played to me the way it would to a general audience. Thankfully Marvel Studios managed to take a character that I'd never really been all that interested in and produce a thoroughly enjoyable action flick.

After a very brief introduction on Earth with Natalie Portman's character Jane Foster, Erik Selvig (Stellan Skarsgard) and their assistant Darcy (Katt Dennings) first encountering Thor (a scene that will repeat itself later in the movie), we're brought to Asgard, the home of Odin Allfather (Anthony Hopkins) and his people and given a short history of the great war between the Asgardians and the Jotuns aka the Frost Giants, a race of monster-like creatures determined to bring about a new ice age to the mortal world. Odin led the great battle which drove the Frost Giants back into their own world of Jotunheim with their great source of power taken by the Asgardians and brought back to Asgard, hence bringing about peace to the Nine Realms. Odin raised two boys, Thor and Loki, with the hope that one day one of them would ascend to the throne and take his place as the new king. Thor is the chosen one, but during his ceremony, a handful of Frost Giants manage to sneak into Asgard in an attempt to steal back their power source. Considering it an attack on their people, Thor rashly and arrogantly takes a small group of his finest and most trusted warriors to seek retribution on the Frost Giants' home.
Continue Reading
Posted by:
Rob Galluzzo
Jun 11, 2012 8:54pm
Terms of Endearment
Dir: James L. Brooks, 1983. Starring: Shirley MacLaine, Debra Winger, Jack Nicholson, Jeff Daniels. Drama.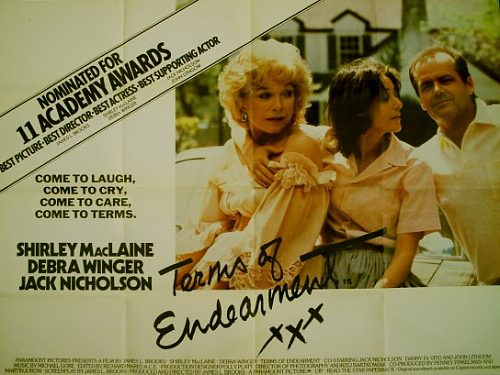 Sometimes films about women are unfairly called "chick flicks," or more recently, if it involves illness, it can be written off as a Lifetime flick or disease-of-the-week TV movie. Terms of Endearment is neither, though it's sometimes too elegantly clean in its look; in its heart it's a big, complicated story with multi- dimensional characters that works perfectly as both a smart comedy and a moving drama. Following mother and daughter, Aurora (Shirley MacLaine) and Emma (Debra Winger) over decades, their tricky relationship to each other and others, like a '70s-style flick, sometimes it's hard to like these women or fully understand their motives, just like real people, not movie creations. Besides MacLaine and Winger giving the performances of their careers, the film is loaded with pedigree behind it. Making his directing debut is the legendary TV writer and creator, James L. Brooks (The Mary Tyler Moore Show, Lou Grant,Taxi) and it has his now familiar fingerprints on every frame. Brooks also wrote the script, based on a book by the great novelist Larry McMurtry (Hud, The Last Picture Show, Lonesome Dove). It was shot by the respected Polish cinematographer Andrzej Bartkowiak (Prince of the City, The Verdict), the crisp look now the standard for these kinds of movies. The great Polly Platt (Paper Moon) designed it, Richard Marks (The Godfather Part II) was the editor, and Michael Gore (Fame) provides the dainty score. Oh, and in a big supporting performance Jack Nicholson wanders in and devours the screen, brilliantly.

The wealthy widow Aurora is a deeply caring but overly needy mother to her only daughter, Emma. She doesn't approve of Emma's choice of husband, the skirt-chasing college professor Flap Horton (Jeff Daniels) who drags Emma from one sleepy Midwest college town after another and, over the course of several years, they have three kids together. While a half-assed father, he usually also has an attractive young coed on the side. Everything Emma does doesn't seem to meet Aurora's high expectations; out of desperation and loneliness in her lousy marriage she even has a brief affair with a nerdy married banker (John Lithgow, who had become a major character actor after a bravura performance in The World According to Garp).
Continue Reading
Posted by:
Sean Sweeney
Jun 11, 2012 7:31pm
Psycho II
Dir: Richard Franklin, 1983. Starring: Anthony Perkins, Meg Tilly, Vera Miles, Robert Loggia, Dennis Franz. Horror.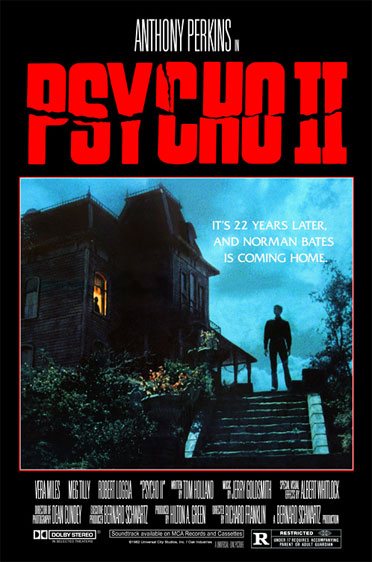 Imagine this daunting task—you're a young on-the-rise Australian filmmaker & devoted Hitchcock protégé with a handful of successful low-budget thrillers under your belt and you're eagerly waiting a big break in Hollywood. You're paired up with an actor-turned-screenwriter who only had a few modestly successful horror films on his resume. And then you're asked to make a sequel to one of the most influential films of all time from a director you spent your entire life idolizing. That's the position Richard Franklin was put in when he was asked to helm Psycho II for Universal Pictures in 1982 and, thankfully, he rose to the challenge and met it with full confidence, successfully re-introducing Norman Bates to a whole new generation of film lovers.

Ignoring the radical and bizarre direction that Robert Bloch's sequel book took, writer Tom Holland (who at the time had penned Class of 1984, The Beast Within, and The Initiation Of Sarah) opted instead to tell a brand new story, picking up 22 years after the events of the first Psycho film. The film had ended with Norman Bates being arrested after a string of murders at the Bates Motel which he committed as his alternate personality, his crazed, wild-eyed mother. Psycho II actually opens with the shower scene since this moment from the original and the character of Marion Crane (Janet Leigh) play so heavily into the plot of the sequel. After a brief credit montage, we're in the court room where Norman Bates is declared to be restored to sanity and is officially set free, much to the dismay of Lila Loomis aka Lila Crane, Marion's sister, once again reprised by actress Vera Miles. Despite her protests and her signed petition, Norman walks out of the courthouse a free man, is escorted by his doctor, Bill Raymond (Robert Loggia) back to his house and his motel, and is set up with a job at the local diner.
Continue Reading
Posted by:
Rob Galluzzo
Jun 8, 2012 5:58pm
Death Wish 3
Dir: Michael Winner, 1985. Starring: Charles Bronson, Martin Balsam, Deborah Raffin, Ed Lauter. Action.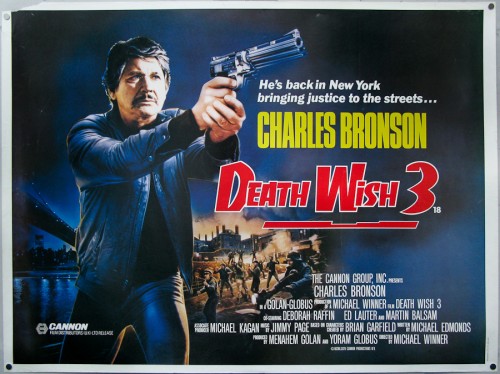 The first three Death Wish films can easily be categorized as the good, the bad, and the ugly. The first one was a good, quality piece of exploitation pulp. The second is bad because it was dull and boring. The third is the ugly and isn't ugly usually more interesting? In this case, it is. Death Wish 3 could be called bad because it's so ridiculous and over the top but that's also what makes it so good—it's ridiculous and over the top. And any resemblance to the realism of the first film has been totally thrown out the window and now plays like a cartoon spoof of the vigilante genre. And forget the later Death Wish flicks to come; still starring Grandpa Charles Bronson, Death Wish 4: the Crackdown and Death Wish 5: the Face of Death, they are utterly forgettable and worse, unwatchable. But the middle child, Death Wish 3, is something special in a lovably ugly dog way.

In the first flick, Death Wish back in '74, Paul Kersey (Charles Bronson) was a respectable NY architect, but when his wife was murdered by some savage street brutes he became a stone cold vigilante, knocking them off. While less credibly in Death Wish II, Bronson was in LA and got all killy again to avenge the memory of his maid. By the time 3 begins he seems to be a guy who just casually kills goons at will. Hoping to take a relaxing vacation in the projects of Brooklyn by visiting his old war buddy, he arrives to find his friend dying, having just been beaten to a pulp by the local street creeps. The cops arrest him for the murder; after giving him a working over, Chief Shriker (the great B-movie actor, Ed Lauter of The Longest Yard) cuts a deal with him, letting him go if he will go knock off some of the 'hood rats (a multi-racial gang of central casting punkers, biker types, and "Beat It" dancers).
Continue Reading
Posted by:
Sean Sweeney
Jun 6, 2012 6:05pm
What About Bob?
Dir: Frank Oz, 1991. Starring: Bill Murray, Richard Dreyfuss, Julie Hagerty, Kathryn Erbe, Charlie Korsmo. Comedy.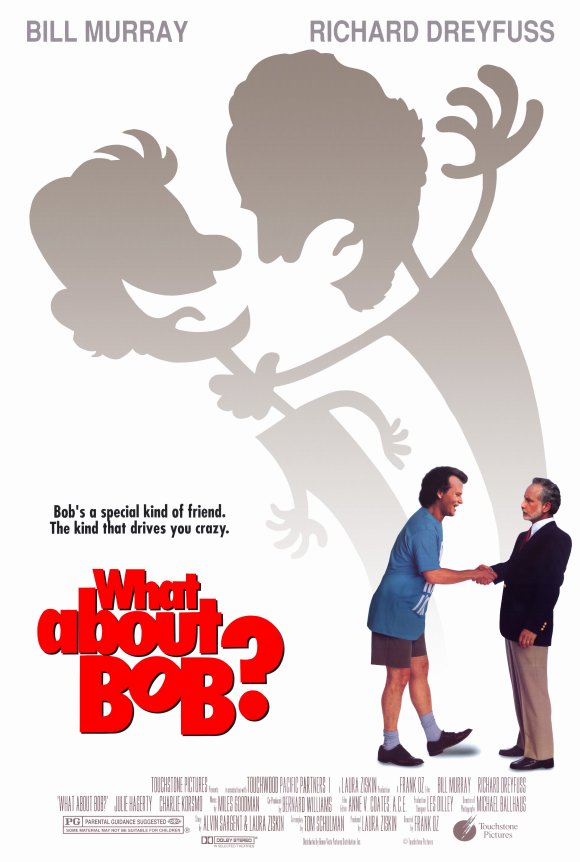 It's always been interesting to follow the cinematic career of Bill Murray, an actor and entertainer who, during the '80s, could do no wrong when it came to his comedic performances. Even during that period you could start to see his desire to make odd and unique film choices—The Razor's Edge and Quick Change, for example—and those choices would eventually lay the foundation for the types of roles Murray would go on to play pretty much exclusively now. But there was one last great one-two comedic hurrah from Murray in the early '90s with the back-to-back films What About Bob? and Groundhog Day.

What About Bob? came first in 1991 and it stars Murray as a completely multi-phobic personality named Bob Wiley, a man incapable of doing even the smallest of tasks without completely panicking. Deep down, he's a good-hearted person with the desire to do the right thing; he's just petrified of everything and everyone around him. Hence, he works from his apartment by day, uses tissues to open doors or shake hands, and would opt to climb 44 flights of stairs rather than be confined in a claustrophobic setting like an elevator. He also starts off each day by repeating the phrase "I feel good, I feel great, I feel wonderful," over and over again and the one and only companion he converses with is his pet goldfish, Gil. After a strong recommendation from a previous doctor, Bob meets up with Dr. Leo Marvin (Richard Dreyfuss), a stern, serious, and fairly egotistical psychiatrist hot on the heels of a successful new book and on the cusp of superstardom via an upcoming appearance on Good Morning America.
Continue Reading
Posted by:
Rob Galluzzo
Jun 6, 2012 5:01pm
There Will Be Blood
Dir: Paul Thomas Anderson, 2007. Starring: Daniel Day Lewis, Paul Dano, Ciaran Hinds, Kevin J. O'Connor. Drama.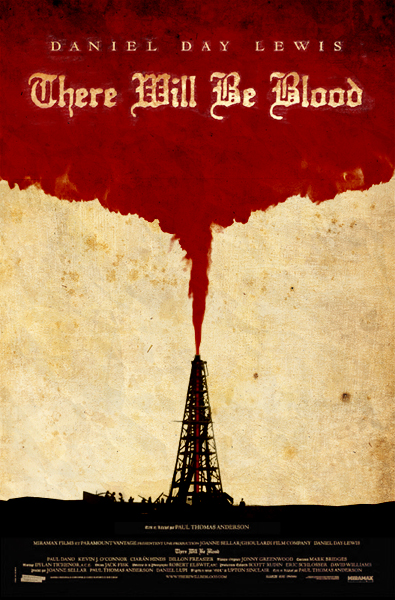 For director/writer Paul Thomas Anderson, his first film Hard Eight was a solid gambling thriller while Punch-Drunk Love gave him quirky Lynchian street cred, but it was his double dose of sprawling LA ensemble pieces Magnolia and Boogie Nights that put him in the big, big-time. Though those are two dazzlingly shot and acted flicks, there is a sense of Altman-esqe gimmickry and MapQuest symmetry about them. It really was his fifth feature, There Will Be Blood, which made Anderson more then just a hip taste of the day. Apparently the film was partially inspired by Upton Sinclair's 1927 novel, Oil!, with the setting moved from the 1920s to the turn of the century. The film works best when sticking to the source material, detailing the beginnings of the oil boom; it tends to loose itself when veering off-course into Anderson's morality battle. Regardless, it's always watchable thanks first and foremost to the epic performance from the great Irish actor Daniel Day-Lewis, who channels the voice, look, and attitude of director/actor John Huston (even more accurately then Clint Eastwood did in White Hunter Black Heart). There Will Be Blood proves that when Anderson has the right, focused material he has as much clear-eyed vision as anyone making movies these days.

Spanning decades in the life and career of Daniel Plainview (Day-Lewis), a prospector who gets into the oil game, the films opens with a stunning dialogue-free 15 minutes as Plainview digs for oil and adopts a baby boy from a worker who was killed. He has a knack for finding oil and becomes more and more successful. Though he is a greedy manipulator he seems to be a devoted dad, referring to his son as his business partner. However, after the kid goes deaf in an on-site accident he seems to lose his patience for fathering. Getting a tip from a young man named Paul Sunday (Paul Dano) about a piece of land that may have oil, he swindles the family out of their land and gets very rich with the oil he takes from their ground. Unfortunately, Paul's twin brother Eli (also Dano, which at first seems confusing) is a true believer preacher who becomes a lifelong headache for the faithless entrepreneur. He also is joined briefly by a guy claiming to be his long-lost half brother (Kevin J. O'Connor) and has minor spats with the major oil companies.
Continue Reading
Posted by:
Sean Sweeney
Jun 1, 2012 5:07pm
Earthquake
Dir: Mark Robson, 1974. Starring: Charlton Heston, George Kennedy, Ava Gardner, Genevieve Bujold, Richard Roundtree. Action.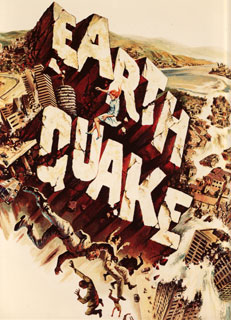 Jump started by the success of the movie Airport in 1970, the "disaster movie" was a 1970's cultural phenomenon, taking the soap-opera mold of Grand Hotel and putting a bunch of actors, ranging from big stars to has-beens all eager to cash their checks, into a dangerous situation with now cornball special effects. The best was The Poseidon Adventure and the biggest was The Towering Inferno (which inexplicably got a Best Picture Oscar nomination). But the most ambitiously awkward may've been Earthquake. The film was originally released extra loud in something called "Sensurround" and featured cameramen shaking cameras while Styrofoam bricks fell on extras. It was directed by Mark Robson (Valley of the Dolls) and written by Mario Puzo (yes, that's right, Mario–the Godfather–Puzo, and he's not the only major talent slumming here), though someone named George Fox also got a screenwriting credit as well, the only film for which he's credited. Earthquake may not have been very good but as a cultural curiosity it's fascinating, as a travelogue of mid-'70s Los Angeles it's invaluable, and as a piece of ridiculous pop-junk it's totally entertaining.

The goofball introduction to the characters goes something like this... hunky architect Stewart Graff (Charlton Heston) is in a dead marriage to Remy (Ava Gardner) and having a boring affair with a young struggling actress, Denise (Genevieve Bujold, a sorta less sexy '70s version of Audrey Tautou), who is a single mom with an annoying son, Cory (the terrible actor but coolly named Tiger Williams). Meanwhile, maverick cop Lew Slade (George Kennedy) gets in trouble for punching out another cop after a car chase ends up ruining Zsa Zsa Gabor's hedges, so he heads to the local dive to get drunk (which features a hilarious Walter Matthau, billed as Walter Matuschanskayasky, playing an inebriated, pimped-out bar fly). Would-be Evel Knievel motorcycle stunt driver Miles Quade (Richard Roundtree) and his manager, Sal (Gabriel Dell) are planning a big new loop-to-loop stunt to impress some Vegas hotel guys. Sal's hot younger sister Rosa (Victoria Principle) is there to bring sex appeal to the act but she's stalked by a creepy grocery clerk/national guardsman (the creepy Marjoe Gortner, most famous for appearing as himself in the documentary Marjoe, before becoming a TV and B-movie staple of the late '70s and early '80s). Also popping up are Lloyd Nolan as a doctor, Lorne Greene as Gardner's father (though in real life he's barely seven years older than her), and a bunch of earthquake studying scientists and maintenance men watching over the Mulholland Dam (actually the real life Hollywood Reservoir), as if there was a giant waterway above Los Angeles that needed to be dammed up.
Continue Reading
Posted by:
Sean Sweeney
May 23, 2012 6:41pm
The Incredible Hulk
Dir: Louis Leterrier, 2008. Starring: Edward Norton, Liv Tyler, Tim Roth, William Hurt. Superheroes / Comics.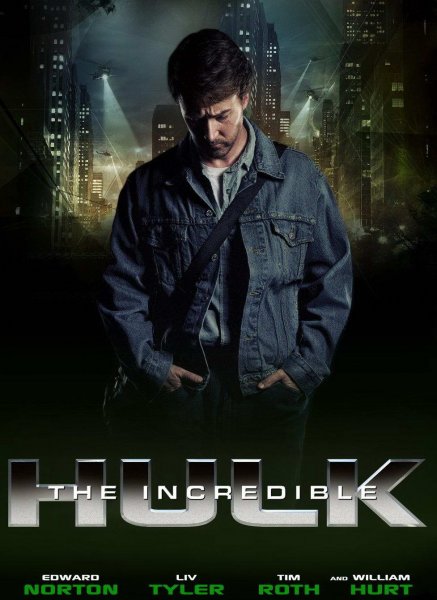 After a long and rich 50-year history in the pages of Marvel Comics, The Incredible Hulk marks the second cinematic interpretation of the fan favorite titanic superhero. Abandoning all of what was established in Ang Lee's 2003 version of Hulk, this version takes more of a cue from the original Incredible Hulk TV series of the late '70s and is presented as a "reboot" rather than a sequel. Instead of spending an hour with exposition and showing a drawn out "origin" story like the other movie did (and as most superhero movies in general do these days), this version manages to encapsulate the birth of Bruce Banner's alter ego in the span of a few minutes during a clever opening credits montage. Visually, it's exactly what most casual fans of the TV show remember; Bruce is strapped down to a chair, the circular light beam from a giant machine shines down on his forehead and during his experimentation with gamma radiation he accidently over-exposes himself which turns him into the angry green goliath. As the credits unfold, Banner (Edward Norton) as the Hulk inadvertently hurts the love of his life, Betty Ross (Liv Tyler) and her father General 'Thunderball' Ross (William Hurt). And much like the TV series, Banner is then on the run and in hiding by the second scene of the movie, desperately trying to come to terms with his anger, find a cure, and keep the beast at bay.

When we find Bruce, he's in Brazil working at a bottle plant factory by day and meeting with a yoga guru by night trying to learn how to control his inner hostilities. Meanwhile, he's communicating with a mysterious scientist simply known only as Mr. Blue via the Internet and exchanging theories and notes regarding his condition. Ever since the incident we witnessed during the opening credits, General Ross has been on the hunt for Banner and the Hulk, and when Bruce accidently pokes his finger at work and inadvertently sheds a drop of his blood into one of the soda bottles headed for America, it eventually reveals his whereabouts. General Ross puts together a military team fronted by Emil Blonsky (Tim Roth) to bring in Banner.
Continue Reading
Posted by:
Rob Galluzzo
May 16, 2012 5:40pm