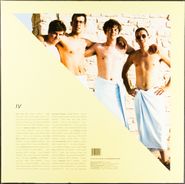 Currently Unavailable
Artist:
BadBadNotGood
Genre:
Electronic-Dance
Release Date:
07/08/2016
Label:
Innovative Leisure
Catalog Number:
IL 2034
Recording:
Studio
Sound:
Stereo
Length:
Format:
Vinyl LP
Note:
2LP
IV [Vinyl Me Please Magenta Transparent Vinyl] (LP)
BadBadNotGood

Currently Unavailable
SHIPS FREE
in U.S.
Amoeba Review
This power quartet keeps funky rhythms and fusion antics alive. Their tracks pick up cues and styles straight from the breakbeat world of Herbie Hancock, Weather Report, and the freestyle energy of Miles Davis's electric period. BADBADNOTGOOD's tracks sound so old-fashioned that they stand out as new and fresh.
Overall Rating
0 Submissions