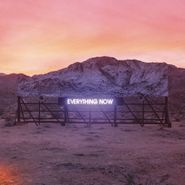 $13.98
Currently Unavailable
Artist:
Arcade Fire
Genre:
Rock
Release Date:
07/28/2017
Label:
Emi
Catalog Number:
88985447852
Recording:
Studio
Length:
Format:
CD
Everything Now [Day Version] (CD)
Arcade Fire

Currently Unavailable
$13.98
SHIPS FREE
in U.S.
Amoeba Review
Everything Now is bold, ambitious, and electric. This is Arcade Fire doing their thing, and embarking on a fascinating sonic experiment, dipping into punk, electro, reggae, and indie to create something new and different. The result is a forward-thinking album that thumbs its nose at the boundaries of indie rock.
Overall Rating
0 Submissions