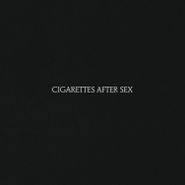 $26.98
Buy
Artist:
Cigarettes After Sex
Genre:
Rock
Release Date:
06/09/2017
Label:
Partisan Records
Catalog Number:
12146
Recording:
Studio
Sound:
Stereo
Length:
Format:
Vinyl LP


NOW OPEN!
Visit our new Berkeley
Cannabis Dispensary
located next door!
Cigarettes After Sex (LP)
Cigarettes After Sex
Buy
$26.98
SHIPS FREE
in U.S.
Amoeba Review
Cigarettes After Sex's self-titled debut stands apart from the rest of the dream-pop crowd, mostly thanks to Greg Gonzalez's up-front, feminine vocals. Another strength is the band's songwriting, which emerges from the standard, subdued and echoing sound, and will draw in fans of other genres.
Overall Rating
0 Submissions