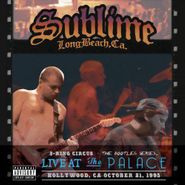 $14.98
Currently Unavailable
Artist:
Sublime
Genre:
Rock
Release Date:
05/07/2013
Label:
Gasoline Alley
Catalog Number:
B0017687-02
Recording:
Live
Length:
Format:
CD
Note:
3 Ring Circus: Live at the Palace-October 21, 1995 catches the trio of late frontman/guitarist/songwriter Bradley Nowell, bassist Eric Wilson and drummer Bud Gaugh in top form before a packed house at the legendary Palace in Hollywood, CA. Sublime tears through 27 songs, including their hits 'Date Rape,' 'Badfish,' and '40 Oz To Freedom,' as well as covers of classic songs that reflect the band's broad stylistic range of influences ('54-46 Was My Number' by Toots & the Maytals, 'House of Suffering' by Bad Brains and the Grateful Dead's 'Scarlet Begonias'). Remastered and remixed multi-source live audio culled from the original master tapes.
3 Ring Circus - Live At The Palace (CD)
Sublime

Currently Unavailable
$14.98
SHIPS FREE
in U.S.
Overall Rating
0 Submissions