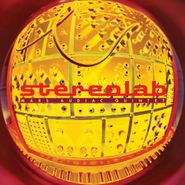 $18.98
Currently Unavailable
Artist:
Stereolab
Genre:
Rock
Release Date:
05/03/2019
Label:
Warp Records
Catalog Number:
5
Recording:
Studio
Length:
Format:
CD
Note:
2CD
Bonus disc of unreleased demos, outtakes & alternate mixes.
Sean O'Hagan:
Guitar, Percussion, Tremolo Guitar, Marimba, Slide Guitar, Brass Arrangement
Andy Robinson:
Trombone
The Groop:
Mixing
Laetitia Sadier:
Guitar, Organ, Tambourine, Vocals
Paul Tipler:
Engineer, Mixing
Tim Gane:
Guitar, Bass, Moog, Organ, Farfisa Organ
Steve Rooke:
Mastering
Nick Webb:
Mastering
Mars Audiac Quintet [Expanded Edition] (CD)
Stereolab

Currently Unavailable
$18.98
SHIPS FREE
in U.S.
Amoeba Review
08/28/2020
Warp gives Stereolab's third album, Mars Audiac Quintet, the million dollar treatment on this vital reissue. The band sounds brilliant, bold, and intriguing on this remastered and expanded version, filled with colorful demo versions and visionary alt. mixes. In her first record with the group, Katharine Gifford shines on the atmospheric Moog synth and Vox/Farfisa organs — a key historical moment for the band. It's fascinating to look back on Stereolab at such a formative point in their career and to hear the record anew in all its boundary-smashing glory.
Overall Rating
0 Submissions