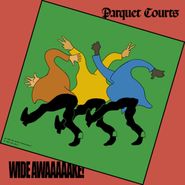 $29.98
Currently Unavailable
Artist:
Parquet Courts
Genre:
Rock
Release Date:
05/18/2018
Label:
Rough Trade
Catalog Number:
115
Recording:
Studio
Length:
Format:
Vinyl LP


NOW OPEN!
Visit our new Berkeley
Cannabis Dispensary
located next door!
Wide Awake! (LP)
Parquet Courts
Currently Unavailable
$29.98
SHIPS FREE
in U.S.
Amoeba Review
Daniel Tures, Hollywood 05/18/2018
This great NYC band continues their hot streak from 2016's Human Performance with another fine album of tense, bold, muscular art-wave trash, which takes an approach not unlike that of The Velvets, Talking Heads, or Modern Lovers…warping basic '60s garage jangle inside out to make new rock structures that convey pricklier ideas.
Overall Rating
0 Submissions