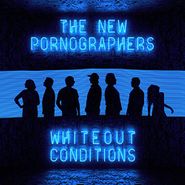 $22.98
Buy
Artist:
The New Pornographers
Genre:
Rock
Release Date:
04/07/2017
Catalog Number:
417
Recording:
Studio
Sound:
Stereo
Length:
Format:
Vinyl LP
Whiteout Conditions (LP)
The New Pornographers

Buy
$22.98
SHIPS FREE
in U.S.
Amoeba Review
All-star indie band The New Pornographers open their latest, Whiteout Conditions, with a propulsive post-punk beat and the gorgeous vocals of Neko Case. From that very first moment, you know the album is a winner. More intense, deep, and soulful than much of what falls under the indie pop umbrella.
Overall Rating
0 Submissions