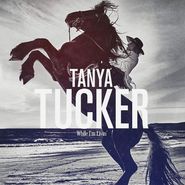 $29.98
Currently Unavailable
Artist:
Tanya Tucker
Genre:
Country
Release Date:
08/23/2019
Label:
Fantasy
Catalog Number:
500
Recording:
Studio
Length:
Format:
Vinyl LP
While I'm Livin' (LP)
Tanya Tucker

Currently Unavailable
$29.98
SHIPS FREE
in U.S.
Amoeba Review
07/28/2020
While I'm Livin', Tanya Tucker's first new studio album since 2009's My Turn, was produced and cowritten by Brandi Carlile and Shooter Jennings – a team well-suited to the material. The album is more poignant than what the outlaw country artist is usually known for, featuring several ballads. "Bring My Flowers Now," for example, is a sweet piano ballad about celebrating life now ("while I'm living") instead of after someone passes. But the sprightly "I Don't Owe You Anything" reveals that Tucker can still bring the sass, kicking off with her mutter, "Oh, I got somethin' to say." Other tracks like "Hard Luck" highlight the strength still present in her voice, contrasted nicely with the gospel-style backing vocals.
Overall Rating
0 Submissions