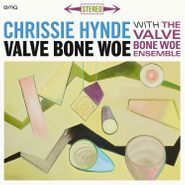 $16.98
Buy
Artist:
Chrissie Hynde
,
The Valve Bone Woe Ensemble
Genre:
Rock
Release Date:
09/06/2019
Label:
BMG Rights Management
Catalog Number:
504484
Recording:
Studio
Length:
Format:
CD
Valve Bone Woe (CD)
Chrissie Hynde , The Valve Bone Woe Ensemble

Buy
$16.98
SHIPS FREE
in U.S.
Amoeba Review
08/04/2020
At 67 years old, punk rock Zelig and Pretenders mastermind Chrissie Hynde releases what is only her second solo album with Valve Bone Woe. In an uncharacteristic move for the sharp-witted, charismatic rock 'n roll lifer, it's a covers album that heavily favors jazz and traditional pop standards. Yet despite the stuffy premise, the results are anything but. Perfect example: Hynde's rendition of the Beach Boys' "Caroline, No," delivered in a narcotic jazz shuffle overlain with dub-influenced production quirks, echoing drums and psychedelic keyboard effects aplenty.
Overall Rating
0 Submissions