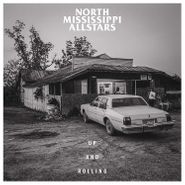 $16.98
Buy
Artist:
North Mississippi Allstars
Genre:
Rock
Release Date:
10/04/2019
Label:
New West Records
Catalog Number:
NW6466
Recording:
Studio
Length:
Format:
CD


NOW OPEN!
Visit our new Berkeley
Cannabis Dispensary
located next door!
Up And Rolling (CD)
North Mississippi Allstars
Buy
$16.98
SHIPS FREE
in U.S.
Amoeba Review
07/28/2020
North Mississippi Allstars' Up And Rolling is modern Mississippi music -- ancient and futuristic all at once. Transcending time and space, the music reaches out into the dark of night like the wisteria vine, looking for free-hearted souls to latch onto and wedge into the foundation of hate, slowly tearing down walls a generation at a time.
Overall Rating
0 Submissions