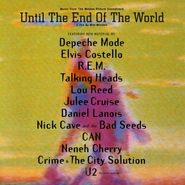 $36.98
Currently Unavailable
Artist:
Various Artists
Genre:
Soundtracks
Release Date:
12/06/2019
Label:
Rhino
Catalog Number:
72
Recording:
Studio
Length:
Format:
Vinyl LP


NOW OPEN!
Visit our new Berkeley
Cannabis Dispensary
located next door!
Until The End Of The World [OST] (LP)
Various Artists
Currently Unavailable
$36.98
SHIPS FREE
in U.S.
Amoeba Review
Fans of classic post-punk have much to rejoice about with the reissue of the soundtrack for the 1991 Wim Wenders flick Until the End of the World. Available for the first time ever in the US on vinyl, the album peaked at #114 on the Billboard charts and then sadly floated off into the pop culture ether. Now, that injustice has been remedied and should win a whole new generation of fans for this frankly wonderful collection of all original jams. The album features a list of underground A-listers so lengthy it's almost hard to believe, with standout contributions from REM, Nick Cave & the Bad Seeds, Depeche Mode, Patti Smith & Fred Smith, CAN, and so many more. A must hear.
Overall Rating
0 Submissions