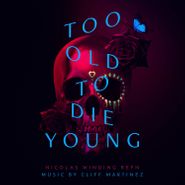 $32.98
Currently Unavailable
Artist:
Cliff Martinez
Genre:
Soundtracks
Release Date:
08/09/2019
Label:
Milan
Catalog Number:
37072
Recording:
Studio
Length:
Format:
Vinyl LP
Note:
2LP
Colored Vinyl
LIMIT 1 PER CUSTOMER


NOW OPEN!
Visit our new Berkeley
Cannabis Dispensary
located next door!
Too Old To Die Young [OST] [Colored Vinyl] (LP)
Cliff Martinez
Currently Unavailable
$32.98
SHIPS FREE
in U.S.
Amoeba Review
08/06/2020
Composer Cliff Martinez, known for films like Drive and Neon Demon, continues his collaboration with director Nicolas Winding Refn for the new thriller series, Too Old To Die Young. The music digs into the grittiness of the show's L.A. crime underworld setting, with a broad range of ominous synths, strings, and even buzzing, as on "Naked Guy Murder." "I Hereby Give You Yaritza" starts off as an elegant lullaby with piano, before merging with warping synth sounds to give a suitably unsettling effect. Ethereal vocals lift up "Viggo and Diana" from an otherwise "Blade Runner"-esque darkness. Highly detailed and effective.
Overall Rating
0 Submissions