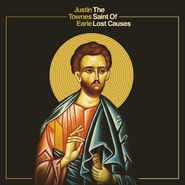 $32.98
Currently Unavailable
Artist:
Justin Townes Earle
Genre:
Country
Release Date:
05/24/2019
Label:
New West Records
Catalog Number:
5279
Recording:
Studio
Length:
Format:
Vinyl LP
The Saint Of Lost Causes (LP)
Justin Townes Earle

Currently Unavailable
$32.98
SHIPS FREE
in U.S.
Amoeba Review
08/10/2020
Hats off to Justin Townes Earle. His latest album, The Saint Of Lost Causes, is a full-blown country masterpiece. It's eclectic and timely, as Earle navigates the road from haunting folk-tinged numbers to honky-tonk hootenannies to bluesy slow burners. He taps into loneliness and regret, delving into social commentary and narrating the personal stories of his songwriting creations. There's no life moment so dark Earle won't look it in its eye — that courage and insight is to our benefit. Send out a prayer of thanks or two today for the heartfelt, sublime The Saint of Lost Causes.
Overall Rating
0 Submissions