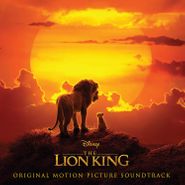 $16.98
Currently Unavailable
Artist:
Various Artists
Genre:
Soundtracks
Release Date:
07/19/2019
Label:
Disney Buena Vista
Catalog Number:
3166102
Recording:
Studio
Length:
Format:
CD


NOW OPEN!
Visit our new Berkeley
Cannabis Dispensary
located next door!
The Lion King (2019) [OST] (CD)
Various Artists
Currently Unavailable
$16.98
SHIPS FREE
in U.S.
Amoeba Review
07/28/2020
The 2019 Lion King remake comes with a reworked soundtrack, including the beloved classic songs performed by the new film's stars Beyonce, Donald Glover (Childish Gambino) and more. This version of "Can You Feel the Love Tonight" is lush and sweet, truly benefiting from Beyonce's flexible range. JD McCrary's slick and light vocals work well as the young Simba's joyful "I Just Can't Wait To Be King," and Billy Eichner – a treat as Timon in the movie - is infectious on "The Lion Sleeps Tonight" with Seth Rogen.
Overall Rating
0 Submissions