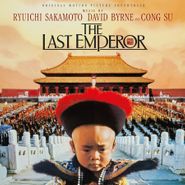 $39.98
Currently Unavailable
Artist:
Ryuichi Sakamoto
,
David Byrne
,
Cong Su
Genre:
Soundtracks
Release Date:
05/07/2021
Label:
Music On Vinyl
Catalog Number:
MOVATM305
Recording:
Studio
Length:
Format:
Vinyl LP
Note:
180 Gram Vinyl
The Last Emperor [OST] [180 Gram Vinyl] (LP)
Ryuichi Sakamoto , David Byrne , Cong Su

Currently Unavailable
$39.98
SHIPS FREE
in U.S.
Amoeba Review
Limited 180gm vinyl LP pressing. Includes insert. The Last Emperor is a lavish historical epic directed by the great Italian filmmaker Bernardo Bertolucci and starring John Lone, Joan Chen, and Peter O'Toole. The film tells the life story of Pu Yi, the last monarch of the Chinese Qing dynasty prior to the republican revolution in 1911. The score for The Last Emperor was created by an unlikely trio: Ryuichi Sakamoto, David Byrne, and Cong Su. The soundtrack is a theme-filled exploration of the sounds and musical traditions of Imperial China, filtered through some very contemporary sensibilities.
Overall Rating
0 Submissions