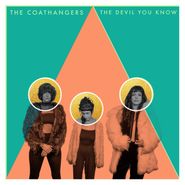 $24.98
Currently Unavailable
Artist:
The Coathangers
Genre:
Rock
Release Date:
03/08/2019
Label:
Suicide Squeeze
Catalog Number:
165-C1
Recording:
Studio
Length:
Format:
Vinyl LP
Note:
Kelly Green w/ White Splatter Colored Vinyl
LIMIT 1 PER CUSTOMER
The Devil You Know [Colored Vinyl] (LP)
The Coathangers
Currently Unavailable
$24.98
SHIPS FREE
in U.S.
Amoeba Review
09/02/2020
Girl group harmonies shine with a thick later of riot grrrl grit on the latest from Atlanta garage trio The Coathangers. The Devil You Know is sugar sweet but it certainly packs a punch, with standout tracks like "F The NRA" and "Bimbo." This is deceptively lo-fi punk, crafted from hypnotic guitar melodies, fierce yet melodic vocals, and danceable post-punk bass lines. Essential listening for fans of smart and scrappy rock 'n' roll.
Overall Rating
0 Submissions