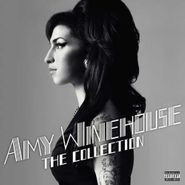 View all Photos

$49.98
Currently Unavailable
Artist:
Amy Winehouse
Genre:
Rock
Release Date:
12/04/2020
Label:
Republic
Catalog Number:
3518765
Recording:
Studio
Length:
Format:
CD
Note:
5CD
The Collection [Box Set] (CD)
Amy Winehouse

Currently Unavailable
$49.98
SHIPS FREE
in U.S.
Amoeba Review
For the late Amy Winehouse's considerable fanbase, this new box set includes her two studio albums Frank and Back To Black as well as Lioness, her 2011 rarities album. Also featured for the first time is the full audio release from her 2007 I Told You I Was Trouble: Live in London DVD -- probably her last best performance -- and fifteen remixes from artists like Hot Chip and Jay-Z, the highlight of which may be Mylo's upbeat, fuzzy version of Winehouse's salty "F*** Me Pumps" from Frank. Also excellent is The Rumble Strips' sped-up, livelier remix of "Back To Black."
Overall Rating
0 Submissions