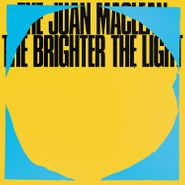 $29.98
Buy
Artist:
The Juan MacLean
Genre:
Electronic-Dance
Release Date:
09/20/2019
Label:
DFA Records
Catalog Number:
DFA2647LP
Recording:
Studio
Length:
Format:
Vinyl LP
Note:
2LP


NOW OPEN!
Visit our new Berkeley
Cannabis Dispensary
located next door!
The Brighter The Light (LP)
The Juan MacLean
Buy
$29.98
SHIPS FREE
in U.S.
Amoeba Review
07/28/2020
The Juan Maclean has another banger on their hands with the release of The Brighter the Light. It's a compilation of the group's 12" singles as you've never heard them before: re-edited, remastered, and ready to get the party rockin'. The tunes run the gamut from deep house to disco to freestyle, the mix blending seamlessly without skipping a beat. It's a good reminder of the scale of the band's talent and their staying power in the ever-evolving NYC dance scene. The perfect soundtrack to the type of night you never want to end.
Overall Rating
0 Submissions