The American Analog Set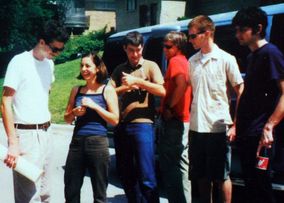 The American Analog Set—commonly referred to as AmAnSet—is an indie-rock bank based out of Austin, Texas. Incorporating lengthy instrumental passages (usually featuring Farfisa organ, brushed drums and Rhodes piano) and guitar-sparse ambient soundscapes, the band established themselves as lo-fi drone-pop artists, and put out six full-length albums and four EPs since their inception in 1995. Over the course of a decade, the group developed a devoted fanbase with extensive touring, and have been compared to the likes of Stereolab, Cocteau Twins and Galaxie 500.
AmAnSet formed when guitarist Andrew...
Read More
| Album Title | Label | Released | Format | Price |
| --- | --- | --- | --- | --- |