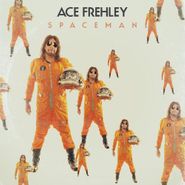 $26.98
Currently Unavailable
Artist:
Ace Frehley
Genre:
Rock
Release Date:
10/19/2018
Label:
E1 Entertainment
Catalog Number:
46059
Recording:
Studio
Length:
Format:
Vinyl LP
Note:
Indie Exclusive Orange Colored Vinyl; CD copy included
Spaceman [Orange Vinyl] (LP)
Ace Frehley

Currently Unavailable
$26.98
SHIPS FREE
in U.S.
Amoeba Review
08/31/2020
Ace Frehley shows no signs of slowing down at 67, with his third solo album of straightforward F-off rock n' roll. Several tracks were co-written with Gene Simmons, and most of them boast enough still-blistering guitar solos to satisfy the Kiss fans. "Your Wish Is My Command" is a clear highlight with its cruising, feel-good chorus, as well as the faster-paced rocker "Bronx Boy." Instrumental closer "Quantum Flux" goes against the grain, delving into prog-rock territory and adding a little extra texture.
Overall Rating
0 Submissions