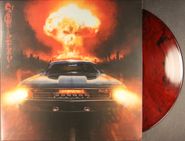 $24.98
Currently Unavailable
Artist:
Sturgill Simpson
Genre:
Country
,
Soundtracks
,
Rock
Release Date:
09/27/2019
Label:
Elektra
Catalog Number:
599931-1
Recording:
Studio
Sound:
Stereo
Length:
Format:
Vinyl LP
Note:
Indie Exclusive Red Marble Vinyl
Limit One Per Customer
Sound & Fury [Red Marble Vinyl] (LP)
Sturgill Simpson

Currently Unavailable
$24.98
SHIPS FREE
in U.S.
Amoeba Review
07/28/2020
With a name like Sound & Fury, you're gonna get exactly what you expect. On his latest, Sturgill Simpson's driving the outlaw country highway at 90 mph, about to make a sharp right into raucous rock 'n' roll territory. Of course, with a name that's also the title of a Faulkner novel, there's plenty of Southern-steeped lyricism, themes, and atmosphere to be found beneath the wailing guitars and pounding drums. Nobody does it like Sturgill Simpson and Sound & Fury is one heady hell of a ride.
Overall Rating
0 Submissions