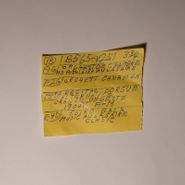 $24.98
Currently Unavailable
Artist:
Mac DeMarco
Genre:
Rock
Release Date:
08/29/2020
Label:
Caroline
Catalog Number:
212232
Recording:
Studio
Length:
Format:
Vinyl LP
Note:
Purple Colored Vinyl
Limit One Per Customer
Other Here Comes The Cowboy Demos [Record Store Day Purple Vinyl] (LP)
Mac DeMarco

Currently Unavailable
$24.98
SHIPS FREE
in U.S.
Amoeba Review
08/28/2020
A lone figure rides into Indie Rock Town. He's a straight shooter, unmatched in his ability to create lovably goofy, naturally infectious jangle pop. He's the man, the myth, the Canadian legend, Mac DeMarco, and his latest album is called Here Comes The Cowboy. Fusing his new and deeply weird (check out the album visuals, music videos, and promo materials) Wild West persona with lazy, dreamy lo-fi and the occasional jammed-out funk shuffle, the album promises the kind of left-of-center pleasures that have won over fans from across the spectrum. Essential summer listening for fans of sweet, silly college rock and riding off into the sunset.
Overall Rating
0 Submissions