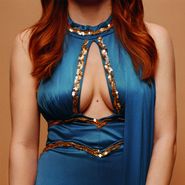 View all Photos
$24.98
Currently Unavailable
Artist:
Jenny Lewis
Genre:
Rock
Release Date:
03/22/2019
Label:
Warner Records
Catalog Number:
587490
Recording:
Studio
Sound:
Stereo
Length:
Format:
Vinyl LP
Note:
Indie Exclusive
Blue Colored Vinyl
Includes Poster
LIMIT 1 PER CUSTOMER


NOW OPEN!
Visit our new Berkeley
Cannabis Dispensary
located next door!
On The Line [Blue Vinyl] (LP)
Jenny Lewis
Currently Unavailable
$24.98
SHIPS FREE
in U.S.
Amoeba Review
09/02/2020
Jenny Lewis is kicking ass and taking names on On the Line. Born from a fraught period in the Rilo Kiley singer's life, Lewis delivers haunting Americana, Fleetwood Mac-inspired hook-heavy rock, and "goodbye" ballads. And she does it all with superstar style, recruiting the likes of Beck, Ringo Starr, Don Was, Benmont Tench (Tom Petty and the Heartbreakers), and Jim Keltner (Traveling Wilburys, Ry Cooder, George Harrison, John Lennon) as contributors. On the Line showcases an artist at the height of her powers.
Overall Rating
0 Submissions