Movies We Like
The Toxic Avenger
Dir: Michael Herz and Samuel Weil, 1984. Starring: Mitch Cohen, Andree Maranda, Gary Schneider, Mark Torgl. Cult/Troma.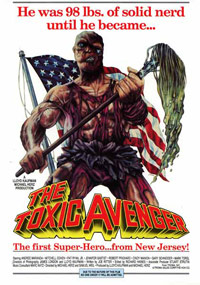 Troma Entertainment has been churning out what can be considered the epitome of "cult" films for over 30 years and has proudly stood tall as the purveyors of independent cinema. But most of their output in those 30 years might be looked upon as lowest common denominator material. To be blunt, the majority of their movies feature some of the most outlandish gags and stories being executed in the poorest of taste with the sole purpose of offending just about anyone and everyone that watches them. Then again, therein lies the charm of a typical Troma film. No other movie among their catalog matches the greatness of
The Toxic Avenger
, Lloyd Kaufman's most famous creation which at least manages to be offensive and entertaining.
No one could've predicted back in 1984 that this little low-budget indie gore-fest would go on to spawn three sequels, comic books, a television cartoon titled the
Toxic Crusaders
and a slew of related toys and merchandise. After all, could the world's first superhero from New Jersey who was born of toxic waste really become that huge of an icon? Low and behold, for better or worse, he has! And that's part of the fun in revisiting the film now which so perfectly captures the sleaziness of New Jersey/New York of the early '80s.
Directed by Michael Herz and Samuel Weil and based upon an original story by Lloyd Kaufman,
The Toxic Avenger
kicks off at the Tromaville Health Club where we're introduced to the club's janitor Melvin (Mark Torgl), a young man who is as nerdy as they come, but harmless. He's just minding his own business, mopping the floors with a giant geeky grin on his face most of the time, oblivious to the taunts and laughs of the health club's jocks and patrons. But then there's Bozo and Slug, along with their girlfriends Julie and Wanda, who by day pump iron and love to harass Melvin directly to his face. And by night, well… the sadistic foursome play a game where they mow down innocent people in their car for "points" and take pictures of the bloody aftermath, although Slug always insists on calling it an early night because he "has to go to church in the morning." These vile and horrific characters would set the precedent for trademark Troma movie villains.
One day, they decide they can't take Melvin anymore and they manage to convince him to dress up in a pink tunic and meet Julie in the locker rooms. They completely humiliate Melvin in front of the entire health club, but in all the excitement, Melvin falls two stories out of the building and directly into a vat of toxic waste. Rather than killing him, the strange toxic substance actually makes Melvin grow into a physically perfect yet deformed man of superhero size and strength. It also makes his voice drop several octaves down, which is hilarious to hear in between the Toxic Avenger's grunts and growls later in the movie.
It isn't long before the deformed Melvin, now the Toxic Avenger (Mitch Cohen) takes to the streets and starts tearing apart criminals limb from limb, and I mean that literally! At one point, he comes across a group of thugs about to off a cop for not taking a bribe. In a grand fight with the four thugs, he tears two of their scalps off, knocks off one of their noses, pokes out another one's eyes and saves the cop. Later, a group of crazed punks try to rob a fast food taco restaurant and are about to take advantage of a blind girl when Toxie shows up, tears off one of the assailant's arms and beats him with it, makes a milkshake/sundae out of the other guy's face, and puts the third punk's hands into a vat of scolding French Fry grease. Ouch! But ya know what? These creeps all had it coming. Of course, once he establishes himself as a local hero, Toxie exacts revenge on the foursome that turned him into what he is and eventually sets his sights on the corrupt Mayor. Looking back now in retrospect, this all plays out like the traditional superhero story; almost like a
Spider-Man
origin story but with sex, violence and gore galore.
This is most definitely a horror comedy of the blackest degree, and if you offend easily, then this is not for you. However, (and I know most of you will probably look down at me for finding the following funny) if you can find scenes such as when Bozo and Slug sucker punch a sweet little old lady and steal her car as hilarious as I do, then you will be rewarded by seeing these two get a much deserved comeuppance.
I must make note of the practical FX, especially in Melvin's transformation sequence where he finally becomes the Toxic Avenger, but also all the kills which, despite being over-the-top spectacles, are all done in traditional old-school horror glory. Kudos to Mitch Cohen who only portrayed the Toxic Avenger in this one film. (Other actors were used for the sequels.) In the sequels, there was always something off about the actors who played the title hero. It could be that the follow-ups pretty much just put a big guy in a Toxic Avenger mask rather than sprung extra money in their budgets for practical make-up FX like in this first movie, but again, the physicality of Mitch's performance is noticeable when held up against the other
Toxic Avenger
movies, hence making him the best (and only) Toxic Avenger in my book.
I can't say I'm a huge Troma fan. I've watched a handful of their better known titles over the years and have gotten some mild enjoyment out of how politically incorrect they are, but not many transcend the way
The Toxic Avenger
does. As a horror fan, as an appreciator of "cult" cinema, and as someone who grew up reading comic books and loving outlandish comedies, this one manages to encapsulate all of those things into one crazy movie and now almost 30 years later, it still remains Troma's best.
Fun Fact: Oscar winning actress Marisa Tomei makes her big screen debut in the uncreditted role of "health club girl" in the movie!
Posted by:
Rob Galluzzo
Aug 8, 2012 9:27am